Koga (古賀, Koga) was a photographer. He did a shoot for Treasures with Junpei Oribe, who modeled under the name Jun. Koga also shot some pictures of Junpei with Tsukushi Makino.
Biography
Koga was a photographer for the magazine, Treasures. He took photos of the model Jun, whose real name was Junpei Oribe, for the magazine's February issue. Jun introduced him to his friend, Tsukushi Makino, and asked him to take pictures of him and her together. Koga agreed after Jun revealed she was in the Teen of Japan contest. He then took several photos, one of which was chosen for the cover.[1]
Physical appearance
He was a middle-aged man with a slight resemblance to Haruo Makino. Koga had short, dark hair which he slicked back. He had small, beady eyes that were framed by his wire glasses. Koga also had a thin mustache.
Personality and traits
Koga was an easy-going photographer. He was always open to new ideas for photos, such as when Jun suggested to have Tsukushi model.
Behind the scenes
Character notes
Portrayals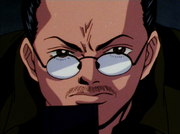 He appears in the episode, "Do You Want a Friend?" of the Boys Over Flowers anime (1997). Koga is voiced by Norito Yashima. His physical appearance is similar to his manga counterpart. However, his personality seems very different. In the manga, he is laid-back while in the anime is shown to be more gruff.
Appearances
Boys Over Flowers
Volume 1
Volume 2
Volume 3
Volume 4
Volume 5
Volume 6
Volume 7
Volume 8
Volume 9
Volume 10
Volume 11
Volume 12
Volume 13
Volume 15
Volume 16
Volume 17
Volume 18
Volume 19
Volume 20
Volume 21
Volume 22
Volume 23
Volume 24
Volume 25
Volume 26
Volume 27
Volume 28
Volume 29
Volume 30
Volume 31
Volume 32
Volume 33
Volume 34
Volume 35
Volume 36
Jewelry Box
Other
Boys Over Flowers (anime)
1
2
3
4
5
6
7
8
9
10
11
12
13
14
15
16
17
18
19
20
21
22
23
24
25
26
27
28
29
30
31
32
33
34
35
36
(Only appearance)
37
38
39
40
41
42
43
44
45
46
47
48
49
50
51
References
See also