"Hello, ladies. It's been a while. Enjoying yourselves? I'm troubled to see so much beauty stranded in a corner like this."
—Kirishima greets the girl trio
Kirishima (桐島, Kirishima) was a CEO of a small subsidiary of the Lionel Group. He was likely a millionaire. Kirishima attended a party for the Lionel Group, where he briefly talked to Yuriko Asai, Minako Yamano, and Erika Ayuhara.
Biography
Kirishima worked as a CEO for a subsidiary of the Lionel Group. His position was given to him by his father. He later attended a party hosted by Lionel Group, where he spoke with Yuriko Asai, Minako Yamano, and Erika Ayuhara, whom he was already acquainted with. Kirishima wanted them to introduce him to Tsukushi Makino, but Yuriko said "We don't even know her."[1]
Physical appearance
Despite being in his twenties or thirties, Kirishima was prematurely balding. Erika Ayuhara also commented that he has lost more hair since the last time they saw him. At the party, he wore a white suit with a bow tie.
Behind the scenes
Character notes
Portrayals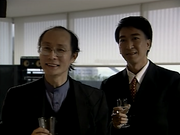 An unknown actor portrays a possible version of Kirishima, named Huang Xiao Kai (黃小開) in episode two of Meteor Garden (2001). He becomes interested in Shan Cai (Tsukushi) for her unusual clothing, but backs off after Qian Hui (Erika) claims she is a "delinquent" whom had two abortions. This conversation is actually more similar to another minor unnamed character from chapter five.
Appearances
Boys Over Flowers
Volume 1
Volume 3
Volume 4
Volume 5
Volume 6
Volume 7
Volume 8
Volume 9
Volume 10
Volume 11
Volume 12
Volume 13
Volume 14
Volume 15
Volume 16
Volume 17
Volume 18
Volume 19
Volume 20
Volume 21
Volume 22
Volume 23
Volume 24
Volume 25
Volume 26
Volume 27
Volume 28
Volume 29
Volume 30
Volume 31
Volume 32
Volume 33
Volume 34
Volume 35
Volume 36
Jewelry Box
Other
References
See also