Manga

Taiwan

Japan

S. Korea

Thailand
"Don't be so arrogant! Who cares about the F4?!"
—Kimoto defied the F4
Kimoto (樹本, Kimoto) was a student at Eitoku Academy. He was once a popular student at the school. However, after standing up to the F4, he received a red card. Kimoto was ostracized by the rest of the school, which eventually led him to drop out. He returned only for a few moments to retrieve his belongings.
Biography
Kimoto attended Eitoku Senior High and was in class 2-C with Tsukushi Makino. He stood up to the F4, resulting in him receiving a red card shortly after. The student population most likely began to ostracize and/or bully him. After being absent for a number of days, Kimoto decided to leave Eitoku. He briefly returned to retrieve his belongings and never came back again.[1]
Physical appearance
He had a normal face with hair cut just above his ears. Before the bullying, he had a full, healthy face. The incident took a toll on his appearance, which gave him sunken cheeks and heavy bags underneath his eyes.
Personality and traits
Kimoto was a happy and popular student before standing up to the F4. He had courage, since he defied a group everyone else is afraid of. His spirit, however appeared to be defeated as a result of the incident.
Etymology
The two characters of Kimoto's name 樹本, 樹本 use the kun'yomi readings. 樹, 樹 means "trees, wood" and 本, 本 means "book, origin". Both characters share the radical 木, 木, which means "tree".[2][3]
Behind the scenes
Character notes
Kimoto appears in the first chapter of Boys Over Flowers.
He is the first person to receive a red card in the manga, though the F4 presumably gave them to many students.
Kimoto is mentioned in the musical, Hana Yori Dango (2019). Like in the manga, he is the latest student to be bullied until he dropped out. His friend, played by Maki Kureha, is brought to Tsukasa for talking to Kimoto before he left. Tsukasa threatens his friend with the same fate.
Portrayals
See also: Category:Kimoto portrayals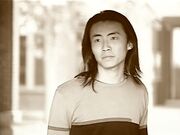 A version of Kimoto, named Ah Shu and portrayed by an unknown actor, appears in the first episode of Meteor Garden (2001). Compared to his later portrayals, Ah Shu has the most similarities with Kimoto. For example, they both have a short flashback sequence showing them stand up to the F4 and saying a similar statement. Ah Shu is bullied and returns to school for his things with a despondent air about him, like Kimoto. Unlike in the manga, his professor gives him some advice before he leaves.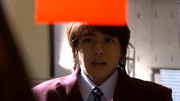 Kimoto is given the first name "Takayuki" and portrayed by Kazuma Sano in the Japanese drama, Hana Yori Dango (2005). In the first episode, a flashback depicts Kimoto angering Tsukasa by eating an orange, the juice of which then flies into Tsukasa's eye. He receives a red card and the whole school corners him into the cafeteria. Tsukasa attempts to have Kimoto's friend punch him. He refuses, leading Tsukasa to punch them both. Kimoto is shown again via archival footage in Hana Yori Dango Returns (2007) and Hana Nochi Hare (2018).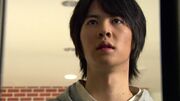 Jung Eui-chul portrays the character, renamed Lee Min-ha, in the Korean drama Boys Over Flowers (2009). Like Kimoto, he angers the F4 and is bullied after receiving a red card. He threatens suicide by jumping off the school's roof, but is saved by Geum Jan-di (Tsukushi).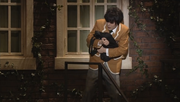 In Hana Yori Dango: The Musical (2016), he is played by Ryo Kimura. His face is partially obscured to avoid confusion with Kimura's other character. At the beginning of the musical, Kimoto bumps into Tsukushi and then rushes off in fear. During the song "Good Morning," the other students talk about him leaving as he gathers his things. Another student intimidates him before he leaves for good.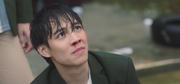 Appearances
Boys Over Flowers
Volume 2
Volume 3
Volume 4
Volume 5
Volume 6
Volume 7
Volume 9
Volume 10
Volume 11
Volume 12
Volume 13
Volume 14
Volume 15
Volume 16
Volume 17
Volume 18
Volume 19
Volume 20
Volume 21
Volume 22
Volume 23
Volume 24
Volume 25
Volume 26
Volume 27
Volume 28
Volume 29
Volume 30
Volume 31
Volume 32
Volume 33
Volume 34
Volume 35
Volume 36
Jewelry Box
Other
References
See also