Kim is a common Korean surname. For others who share the name, see Kim.
Kim Hyun-joong (Hangul: 김현중 , born June 6, 1986 in Seoul, South Korea) is a South Korean actor and musician. He is a former member of SS501. Kim also has a successful solo career, releasing several Korean and Japanese albums. In acting, he is well known for playing Yoon Ji-hoo in Boys Over Flowers and Baek Seung-jo in Playful Kiss.
Biography
Early life
Kim was born on June 6, 1986 in Seoul, South Korea.[1]
Career
| | |
| --- | --- |
| | This article, or a section of this article, needs to be expanded and/or cleaned up. You can help Boys Over Flowers Wiki by contributing. |
Kim debuted in June 2005 as the leader of the boy band SS501. Their debut album, titled Warning, came out later that month.[2]
On May 12, 2015, Kim enlisted for mandatory military service. He finished his basic training on June 18, and began working as a border patrol the following day.[3][4] Kim was released in February 2017.[5]
Personal life
In August 2014, Kim's former girlfriend, surname Choi, filed an assault complaint against him, accusing him of multiple beatings.[6] Kim denied the accusations, only admitting to hurting her once by accident while practicing martial arts. Choi dropped some charges when he officially apologized.[7] The court ordered him to pay a five million won fine.[8] In May 2015, she filed a civil suit against Kim, citing mental damages[9] and accused him of causing her to miscarry.[10] He filed a countersuit for defamation.[11] Kim and Choi also had reconciled briefly in late 2014, resulting in her pregnancy.[8] He took a paternity test in December 2015, confirming that he was the father of the child whom was born in September.[12]
In August 2016, Choi's civil case was dismissed for lack of evidence and she was ordered to pay a one hundred million won fine.[11] The following month, Kim was acquitted of all charges filed by Choi.[13][14] In January 2017, Kim filed criminal charges against Choi for attempted fraud and defamation.[15] Kim was caught drunk driving in March 2017. He was asleep at a stop light when the police found him.[16] Kim was later indicted and fined two million won.[17] In February 2018, Choi was indicted and the courts ordered her to pay a five million won fine.[18] She filed an appeal, which was dismissed by the Supreme Court of South Korea in November 2020. The court upheld the judgment of the previous cases.[19]
Described as his "first love," Kim dated his non-celebrity wife when they were younger. They broke up in 2011 due to his busy work schedule.[20] On February 27, 2022, Kim announced during a concert that he was engaged.[21] The couple married without a wedding ceremony due to COVID-19 concerns.[22] In July, Kim announced that they were expecting a child.[23]
Filmography
Television dramas
Films
| Year | Title | Role | Notes |
| --- | --- | --- | --- |
| 2006 | Pi's Story | Bap, Max | Voice |
| 2021 | Indian Pink | Kang Dong-seok | |
Notes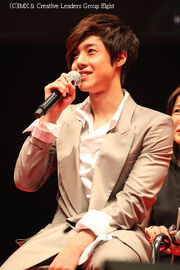 References
External links