Manga
"Miyoko was really looking forward to your and Tenma's marriage until the end. I felt that if it happened, it'd seem like she was still with us."
—Kazuma Hase
Kazuma Hase (馳 一馬, Hase Kazuma) was a wealthy businessman. He was the father of Tenma through his first wife Miyoko. After Miyoko passed away, Kazuma married Mirei. He supported his son's engagement to Oto Edogawa.
Biography
Early life
Kazuma had one son, Tenma, with his first wife, Miyoko. Sometime following Miyoko's passing, he was remarried to Mirei. He and Mirei honored Miyoko's wish for Tenma and Oto Edogawa to be married. However, Mirei set a condition that she had to continue attending Eitoku Academy.[1]
Tenma in high school
After Tenma was injured in Kyoto, Kazuma and his wife flew there from Tokyo. The doctor explained to them all about Tenma's injury and that there was "hope for a full recovery." Kazuma then tried to quiet his wife, when she started to blame Oto for the accident.[2] A few days later, he and his wife returned to Tokyo. He apologized to Oto and asked her to look after Tenma for him, shortly before leaving.[3]
Oto's mother contacted Kazuma several months later about ending the engagement. He was "very disappointed" and wanted to discuss it.[4] At the meeting, he specifically asked Oto her reason for ending it. She informed him that she was "in love with someone else."[5] He accepted the reason calmly, despite his disappointment. Kazuma then apologized to Tenma and Oto for not putting their feelings first.[6] A couple days later, Tenma told his father that he wanted to transfer to Momonozono Academy's sister school in Los Angeles.[7] Kazuma questioned if he wanted to leave because of Oto, which Tenma denied saying "This is for me."[8]
Physical appearance
Kazuma had similar features to his son, Tenma, including his overall face shape. He had short, light hair that he parted to the right. Being a businessman, he wore a sharp suit and tie.
Personality and traits
He was a nice person, though somewhat insensitive. Despite loving his son, Kazuma appeared to be more committed to his work, exhibited when he left Tenma to recover alone in Kyoto. He still held on to the memories his first wife, leaving Mirei feeling insecure at times.
Behind the scenes
Character notes
Portrayals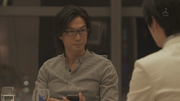 Kazuma is played by Tet Wada in Hana Nochi Hare (2018).[10] Similar to the manga, he is often busy with his work and rarely has time for Tenma. His background and wife's death is explored a bit more in the drama.
Appearances
References
See also