Manga

Thailand
Jean P. Mayol[1] (ジャン・P・マイヨール, Jan P Maiyōru) was a French politician and a potential candidate for presidency. He proposed to former Japanese heiress Shizuka Todo, but was turned down. Rumors that she accepted his proposal spread around France and Japan.
Biography
Jean was a popular politician in France. He was rumored to be a candidate for the French presidency. Jean proposed to the Japanese heiress and model, Shizuka Todo. His proposal was widely reported in the French and Japanese tabloids. The reports also said that she had accepted.[2] However, Shizuka had actually turned him down.[3] Her reason was that she could not picture herself marrying someone she did not love.[4]
Physical appearance
Jean was a handsome, young Frenchman. His overall features were likable and well-proportioned. His short, light hair was slicked back likely with hair gel. He was seen wearing a nice-looking, expensive suit and tie.
Behind the scenes
Character notes
Jean only appears in a photograph in chapter thirty-seven of Boys Over Flowers and is mentioned a few times later on.
Shizuka goes on to marry a Frenchman in a special chapter. Though unnamed, the man is a lawyer which confirms that he is not Jean.
He is mentioned in Hana Yori Dango: The Musical (2016). In the musical, Rui appears to be more jealous of Jean than is shown in the manga. He eventually leaves France because of Jean.
In the musical Hana Yori Dango (2019), Jean is mentioned a couple times. His personal details are kept the same, except Shizuka does not deny them being engaged in this version.
Portrayals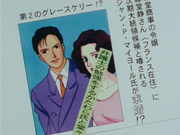 In the episode "Night of Betrayal" of the Boys Over Flowers anime (1996), Jean is seen in a photograph with Shizuka. Everything from his appearance to his personal details are kept the same. Unlike in the manga, Shizuka is never seen denying that she has or had a relationship with him. However, as it is a tabloid story, it is equally unlikely to be true in the anime. In the English subtitles, his name is spelled "Jean Paul Mailleur."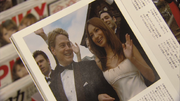 He is briefly shown in a few photographs of a magazine in episode seven of Hana Yori Dango (2005), played by an unknown actor. His appearance is similar to the manga as well as the details mentioned about him. It is assumed that Jean and Shizuka being linked was a rumor as she returns for Rui in the finale.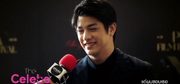 Appearances
Boys Over Flowers
Volume 1
Volume 2
Volume 3
Volume 4
Volume 5
Volume 6
31
32
33
34
35
36
37
(Photograph(s) only)
Volume 7
Volume 9
Volume 10
Volume 11
Volume 12
Volume 14
Volume 15
Volume 16
Volume 17
Volume 18
Volume 19
Volume 20
Volume 21
Volume 22
Volume 23
Volume 24
Volume 25
Volume 26
Volume 27
Volume 28
Volume 29
Volume 30
Volume 31
Volume 32
Volume 33
Volume 34
Volume 35
Volume 36
Jewelry Box
Other
Boys Over Flowers (anime)
1
2
3
4
5
6
7
8
9
10
11
12
13
14
15
16
17
18
19
20
21
22
23
24
25
26
27
(Photograph(s) only)
28
29
30
31
32
33
34
35
36
37
38
39
40
41
42
43
44
45
46
47
48
49
50
51
References
See also