Iwatsuki (岩槻, Iwatsuki) was the son of the director of Iwatsuki Hospital. He attended college at Eitoku University. Iwatsuki was also an acquaintance of Shizuka Todo.
Biography
Iwatsuki, the son of Iwatsuki Hospital's director, most likely grew up well off. He attended Eitoku Academy, possibly starting in kindergarten. Iwatsuki became acquainted with Shizuka Todo at some point. After she returned from France, he greeted her in Eitoku University's cafeteria. She introduced him to the F4. He mistook Rui Hanazawa to be her boyfriend. She corrected him, saying Rui was "just a childhood friend." Blushing, Iwatsuki responded "You just seemed so close."[1]
Physical appearance
Iwatsuki had dark hair and a plain, friendly face. He was seen wearing gray pants and a white polo style shirt with a striped sweater tied around his neck, like a stereotypical rich person.
Behind the scenes
Character notes
Portrayals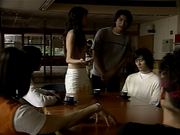 In Meteor Garden (2001), a version of Iwatsuki renamed Ah Yan (阿岩) appears in the second episode. Jing (Shizuka) introduces him to the F4 and he mistakes Lei (Rui) to be her boyfriend, just like in the manga. He then goes on to suggest that Si (Tsukasa) is her boyfriend. Si promptly shows him a red card, leading Ah Yan to quickly say goodbye. He is played by an unknown actor.
Appearances
Boys Over Flowers
Volume 1
Volume 3
Volume 4
Volume 5
Volume 6
Volume 7
Volume 8
Volume 9
Volume 10
Volume 11
Volume 12
Volume 13
Volume 14
Volume 15
Volume 16
Volume 17
Volume 18
Volume 19
Volume 20
Volume 21
Volume 22
Volume 23
Volume 24
Volume 25
Volume 26
Volume 27
Volume 28
Volume 29
Volume 30
Volume 31
Volume 32
Volume 33
Volume 34
Volume 35
Volume 36
Jewelry Box
Other
References
See also