Hiroko (浩子, Hiroko) was a student at Yamanote Women's Academy. She was a friend of Noriko. After Sojiro Nishikado approached her in a club, she and her friend went on a trip with the F4. Hiroko stayed in Sojiro's room.
Biography
Hiroko's father was a corporate head. Her family owned a vacation home in Karuizawa.[1] She attended Yamanote Women's Academy with Noriko.[2] While nightclubbing, Hiroko and Noriko was picked up by the F4's Sojiro Nishikado. He invited the two of them on a trip to Tsukasa Domyoji's island. There Hiroko stayed in Sojiro's room.[1] The next morning, the F4 played volleyball. She and Noriko declined to play, but cheered on Tsukushi Makino when she joined.[3] On the final day, everyone was left behind on the island when Tsukasa took off in his private jet. They were forced to get back to Tokyo via Kazuya Aoike's boat, which took two days.[4]
Physical appearance
She was a pretty girl in her late teens. Hiroko had long, dark hair with bangs pushed to the right side. She usually left her hair down, but put it up once. Unlike Noriko, she wore a lot of make-up though not too much. Her clothing was stylish for the time and was likely expensive and name-brand.
Personality and traits
Hiroko was a happy, carefree person, much like her friend Noriko. She was impressed by the ridiculously wealthy F4, though she came from a rich family herself. Hiroko frequented night clubs with friends and was experienced with sex. She was also nice girl though a bit empty-headed.
Behind the scenes
Character notes
Portrayals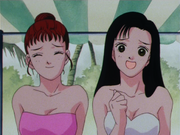 Hiroko is voiced by Naoko Okada in three episodes of the Boys Over Flowers anime (1997). Her personality, appearance and actions are the same as in the manga. She joins the F4 on their trip to Tsukasa's island, where she shared a room with Sojiro. Hiroko and Noriko were impressed with F4's wealth even though their fathers' were both heads of companies.
Kurara Kotomi portrays Hiroko in the 2019 musical, Hana Yori Dango. She also plays Sonoko Maekawa.[5] In this version, they are also picked up by Sojiro.
Appearances
Boys Over Flowers
Volume 1
Volume 2
Volume 3
Volume 4
Volume 5
Volume 8
45
46
47
48
49
50
51
(Photograph(s) only)
Volume 9
Volume 10
Volume 11
Volume 12
Volume 13
Volume 14
Volume 15
Volume 16
Volume 17
Volume 18
Volume 19
Volume 20
Volume 21
Volume 22
Volume 23
Volume 24
Volume 25
Volume 26
Volume 27
Volume 28
Volume 29
Volume 30
Volume 31
Volume 32
Volume 33
Volume 34
Volume 35
Volume 36
Jewelry Box
Other
Boys Over Flowers (anime)
1
2
3
4
5
6
7
8
9
10
11
12
13
14
15
16
17
18
19
20
21
22
23
24
25
26
27
(Debut)
28
29
30
31
32
33
34
35
36
37
38
39
40
41
42
43
44
45
46
47
48
49
50
51
References
See also