"Our story doesn't end here. In fact it's just getting started."
Hana Yori Dango Final (花より男子F ファイナル, Hana Yori Dango Final) is the film sequel of Hana Yori Dango Returns (2007), which in turn is the sequel of Hana Yori Dango (2005).[2] The film is an original story, though it uses characters from the manga by Yoko Kamio.[3] It premiered on June 28, 2008[4] and topped the Japanese box office for three straight weekends.[5]
Mao Inoue, Jun Matsumoto, Shun Oguri, Shota Matsuda, and Tsuyoshi Abe returned to play their roles from the previous two series. Yasuharu Ishii, who directed the two preceding series, also directed the film. Mikio Satake and Kamio worked together on the script.[6][7] The film was followed by a third series, Hana Nochi Hare (2018).[8]
Tsukushi Makino (Inoue) and Tsukasa Domyoji (Matsumoto) are preparing for their wedding, when a precious family heirloom is stolen. Determined to take it back, they travel to Las Vegas and Hong Kong to track down the thief with the help of the F4. Several trials and tribulations test the couple's readiness to head down the aisle.
Plot
The film opens up with Tsukushi Makino (Mao Inoue) and Tsukasa Domyoji (Jun Matsumoto) driving across the Nevada desert. They are about to hit a semi-trailer truck, before the story switches to two weeks previously in Tokyo. Tsukushi and her family meet with Tsukasa and his mother, Kaede Domyoji (Mariko Kaga) to discuss their marriage. Tama (Sumie Sasaki) enters the room and presents a family heirloom, a tiara called "The Smile of Venus", to Tsukushi. Later that day at the hotel, Tsukushi's family goes off to eat dinner, leaving her alone with Tsukasa. A masked thief (Akira) crashes through the window and steals the tiara. Tsukasa chases him throughout the hotel, leading to a fight in the kitchen and a final standoff on the roof, where he disappears onto a helicopter.
Tsukushi and Tsukasa return to the room, only to find the window replaced and all evidence of what happened erased. Later, Rui Hanazawa (Shun Oguri) calls Shizuka Todo (Mayumi Sada) to congratulate her on her wedding day. Tsukasa then shows up and asks him to care of things "if for some reason something should happen to [him]." Rui is reluctant to say yes since Tsukasa will not explain the situation. At the Domyojis Mansion, Nishida (David Ito) reports to Tsukasa about the hotel's owner Kazu Kaburagi (Naohito Fujiki), who is currently in Las Vegas. Tsukasa and Tsukushi decide to take a trip to America in order to question Kazu about the thief.
The couple books a room at a cheap motel to remain under the radar. Outside a casino, they run into their old friend Shigeru Okawahara (Natsuki Kato). She happens to be there for a date with Kazu and introduces them. He tells them that he accepted money from someone to keep quiet about the incident. Later, Tsukasa receives a call from Akira Mimasaka (Tsuyoshi Abe), who reports that the tiara is being put up for auction on Hong Kong's black market for thirty billion yen. Tsukasa cannot take funds from Domyoji Group as this might alert his mother to the situation. As they are discussing this, Kazu arrives with the five million dollars he had taken as a bribe. Tsukasa decides to increase the money at the casino. They almost win until Tsukasa bumps the table, while chasing down the thief, whom he spotted in the crowd.
Rui, Akira, and Sojiro Nishikado (Shota Matsuda) suddenly arrive, saying they are here to "save" Tsukushi. The three of them present the couple with their wedding present, a private jet with "Flower 4" emblazoned on the side. Using the private jet, they arrive at the auction in Hong Kong, where they also plan to catch the thief. Tsukasa's friends pull together their funds to bid on the tiara, winning it at the price of sixty billion yen. Tsukushi steps outside for a bit of fresh air and happens to see Rui talking to the thief in a friendly manner. Tsukushi tells Tsukasa about what she saw, but he refuses to believe her. The two of them get into a fight later, when she insists that there is "something wrong" with all three of them.
Tsukushi meets with Kazu, who also came to town for the auction at Shigeru's request. They discuss marriage and he reveals that him and his wife divorced, because they had different dreams. On their way back to Japan, Tsukushi asks Tsukasa what his dream is. However, the two of them pass out before he answers. They wake up on a deserted island with the tiara missing. Tsukushi remembers the story behind the tiara and realizes they are on the third stage, "South Sea Love". They struggle to survive on the island for several days as both are inexperienced at gathering their own food. Tensions continue to rise between the couple and Tsukushi finds herself wondering why she wanted to get married in the first place.
Some days later, Tsukushi contemplates things while staring at the Saturn necklace that Tsukasa had given her so long ago. A bear then comes out of jungle, causing her to drop it. Tsukushi decides to fight back and punches the bear, scaring it away. Noticing that the necklace is gone, she searches all night for it. When Tsukasa finds her, she apologizes for losing it. He tells her not to worry about it. The next day, Tsukasa happens to find the necklace while searching for food in a birds' nest. After this, the situation changes dramatically for the couple and they actually start to enjoy the other's company. Several days later, Tsukushi asks Tsukasa about his dream again. He points to her and says "it came true already."
Finally, the thief picks the couple up to take them to the last stage. In Kyoto, an unnamed man (Kinya Kitaoji) explains that the tiara was a fake and the story behind it was made up. Kaede asked him organized everything at the request of Tsukushi's parents (Mako Ishino and Susumu Kobayashi). They apologize to the couple for putting them through such trials, telling her that they wanted her to be sure about marrying Tsukasa. Instead of getting angry, Tsukasa thanks his future mother and father-in-law for giving birth to Tsukushi. Sojiro and Akira then surprise the couple by bringing them to their wedding. Surrounded by friends and family, the two are married by Rui, who acts as the officiant.
A year later, Yuki Matsuoka (Aki Nishihara) greets Sojiro at his book signing. He runs away and she promptly chases after him. In Hong Kong, Akira tells his crime empire that they will now be "just and honorable". Rui places a photo on his window sill and recites a poem, before leaving the room. Meanwhile, Tsukushi and Tsukasa are visiting the deserted island. He asks her about her dream and she touches her stomach, hinting that she is pregnant. Back in Rui's bedroom, the photo is shown to be of the F4 and Tsukushi on the wedding day.
Cast and characters
Starring

Costarring

Guest starring[2]

Former Eitoku students

Tomohiro Kaku as Shingo Sawatari
Erina as Manami Yagami
Kenji Yamamoto
Kyohei as Yusuke Omata
Manabu Omura
Michi Saito as Erina Nozoe
Risa Yamaguchi as Ayano Hayashi
Sayaka Yamada as Arisa Murakami
Yuichi Sakamoto as Atsuhiro Teraoka
Yuji Ikeda as Ryu Inagawa
Yuka Noguchi as Moe Kobayashi
Yuki Hoshino as Erika Shiraishi
Yuya Mori as Yasuhiro Nakajo
Staff
Production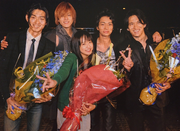 The film sequel of Hana Yori Dango (2005) and Hana Yori Dango Returns (2007), titled Hana Yori Dango Final, was announced by TBS in August 2007.[9] Director Yasuharu Ishii and screenwriter Mikio Satake both returned from the original series'. Satake also collaborated with Boys Over Flowers creator Yoko Kamio on the script. Filming began in early January 2008.[6] Jun Matsumoto and David Ito filmed their first scene during a press conference on January 14 in Tokyo. Mao Inoue surprised Matsumoto by appearing on stage.[10]
In early February, Tsuyoshi Abe was the first to began filming in Hong Kong. He was soon joined by Inoue, Naohito Fujiki, Matsumoto, Shun Oguri, and Shota Matsuda. Inoue and Matsumoto completed their filming there on February 16, before flying to Las Vegas, Nevada on February 19. Overseas shooting wrapped on February 29. Inoue and Matsumoto then began filming on Ishigaki Island in Okinawa. The final scene of the film, featuring an illustration by Kamio, was a dedication to the original manga.[4][10]
Release
Hana Yori Dango Final premiered on June 28, 2008,[4] opening on four hundred screens across Japan.[11] In the following months, it was distributed to Hong Kong, Thailand, Taiwan, Singapore, South Korea, and Malaysia.[12] Discotek Media ran the film in select American film festivals and some trans-Pacific airline flights in 2009.[13]
Streaming
On December 15, 2021, Hana Yori Dango Final was added to the Amazon Prime Japan catalog.[14]
Promotion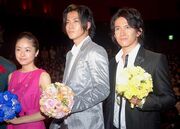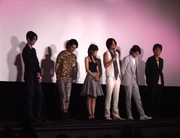 On June 23, 2008, Inoue, Matsumoto, Oguri, Matsuda, and Abe spoke before a special presentation of the film at Nippon Budokan.[15] In honor of the occasion, Inoue wore the Saturn necklace, the prom dress from the finale of Hana Yori Dango Returns, and the shoes Shizuka gave her in Hana Yori Dango.[16] The day before the film's premiere, TBS aired a special digest video.[17] It featured a "mini-episode" that takes place shortly before the movie and a song medley by Arashi.[18][19]
The stars of Hana Yori Dango Final went on a publicity campaign by chartering a jet to thank fans in five major cities. They visited Sapporo, Nagoya, and Fukuoka on July 12, followed by Osaka and Tokyo on July 13.[11] Such a campaign was the first for a Japanese film. At the time, it was also the largest campaign to be undertaken after a film's release.[20] In late July, a promotional event was held in Okinawa, where scenes in the movie were filmed. Aiko, who performed "KissHug" for the film, was also there. On August 21, 2008, a final event took place at Yebisu Garden Place. Inoue and Matsumoto dressed in their wedding outfits for the occasion.[16]
Home media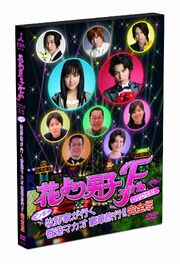 The film was released on DVD on December 19, 2008 by TC Entertainment.[21] It is the third best-selling domestic live-action film DVD in Japan ever,[22] having sold over 346,721 copies in the first half of 2009.[23] The DVD ranked fourth in the Oricon's general category at the end of the year, selling 358,172 copies.[24] It was released on blu-ray on December 19, 2018.[25]
A special, titled "Hana Yori Dango Final Special: Makino family go on a luxurious vacation to Hong Kong and Macao" (花より男子F 化記念 ビンボー牧野家が行く 香港マカオ豪華旅行!!), (花より男子F 化記念 ビンボー牧野家が行く 香港マカオ豪華旅行!!) was released on DVD on November 26, 2008. The special shows the cast of the film exploring restaurants in Hong Kong and Macao.[26][27]
Discotek Media released the film on DVD in North America as Hana Yori Dango Final: The Movie on August 25, 2009 in North America.[13]
Cover
Release date
Contents
Japan (DVD & blu-ray)
Premium Edition

Standard Edition
December 19, 2008 (DVD)[21]
December 19, 2018 (blu-ray)[25]

3-disc set (Premium), 1-disc set (Standard)
16:9 aspect ratio
Language: Japanese
Subtitles: Japanese
Running time: 131 minutes
Dolby Digital 2.0

Special features (Premium)

Director's Cut
Preview Event in Budokan
Gala Premiere
Promotion in Five Major Cities
Promotion in Okinawa
Final Event at Yebisu Garden Place

United States (DVD)
August 25, 2009[30]

Details

2-disc set
1.85:1 aspect ratio
Language: Japanese
Subtitles: English
Running time: 131 minutes
Dolby Digital 5.1

Special features

Trailers
Production Announcement
Making Of
Crank-Up Collection
Directors Cut
Memorial Event Collection
Interviews
Gala Premiere
Music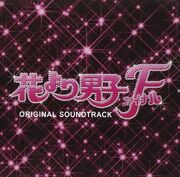 Main article: Hana Yori Dango Final Original Soundtrack
The music for the film was composed by Kousuke Yamashita, who also worked on the previous two series.[31] The soundtrack to Hana Yori Dango Final was published on June 25, 2008 by Sony Music.[32]
Arashi's "One Love" served as the film's theme song.[33] The single was listed on Japan Gold Disc Award as one of the best-selling singles of 2009.[34] Aiko provided an insert song for the film, which she selected from her unpublished material.[35] The single, titled "KissHug", was released on July 23, 2008.[36]
Merchandise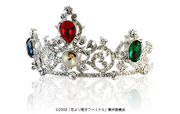 Main article: Hana Yori Dango (Japanese drama)/Merchandise
A large number of merchandise was released for Final by TBS, including a replica of the film's tiara. It sold for ¥75,600 and was only made-to-order[37] Additionally, some of the items were made in collaboration with Mao Inoue, who helped with the design of a watch, a T-shirt, and a ring.[38] She also personally signs cards included with a model of the car featured in the film.[39] A novelization of the film and a photo book were published in June 2008.[40][41]
Reception
Box office
Hana Yori Dango Final topped the Japanese box office in its first weekend, earning over one billion yen (US$9,631,782).[42] The film opened on 400 screens and was watched by over one million people in its first five days.[43] It stayed at number one for three consecutive weekends[44] and the top ten for ten weekends.[45] The film was the second highest-grossing film of 2008 in Japan, behind Ponyo on the Cliff by the Sea. It earned approximately 7.75 billion yen (US$83.5 million).[46]
Accolades
Gallery
Boys Over Flowers Wiki has a collection of images on this topic. (view gallery)
Boys Over Flowers Wiki has a collection of screenshots on this topic. (view category)
Videos
Notes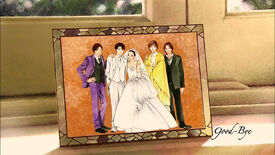 References
See also
Further reading
External links