Hana Yori Dango (花より男子, Hana Yori Dango) is a musical performed by the Flower Troupe of the Takarazuka Revue. It is based on Yoko Kamio's Boys Over Flowers. The musical opened on June 15, 2019 at Akasaka ACT Theater in Tokyo, Japan.[2] It was directed and written by Kosaku Noguchi.[3] Rei Yuzuka and Mirei Shiroki starred as the leads.[4]
The musical is comprised of two acts, lasting a total of two hours and thirty minutes.[5] On June 29, 2019, theaters in Japan, Taiwan, and Hong Kong showed a live broadcast of the musical.[6] The same broadcast was released on blu-ray on September 28 of the same year.[7] Hana Yori Dango concluded on July 2 after twenty-four performances.[8]
Tsukushi Makino (Shiroki), a girl from an average family, enrolls at Eitoku Academy, where she meets the infamous F4. Her life becomes complicated when F4 leader Tsukasa Domyoji (Yuzuka) falls for her.
Cast and characters
Starring

Costarring[9]

Teen of Japan participants
Staff
Original work: Boys Over Flowers by Yoko Kamio
Script / Director: Kosaku Noguchi
Composition / Songs: Tomoko Aoki, Masahiro Hasegawa, Makoto Miyazaki
Conductor / Music performance: Makoto Miyazaki
Choreography: Rino Masaki, Satoshi Mitsui, Oguri, Akihiko Nagano
Fight choreography: Kazuto Seike
Performances
Akasaka ACT Theater (Tokyo, Japan)
6/15
(Sat)
6/16
(Sun)
6/17
(Mon)
6/18
(Tue)
6/19
(Wed)
6/21
(Fri)
6/22
(Sat)
6/23
(Sun)
11:00AM
1:00PM
11:00AM
2:00PM
1:00PM
11:00AM
11:00AM
3:00PM
3:30PM
3:30PM
6:30PM
3:30PM
3:30PM
6/24
(Mon)
6/25
(Sun)
6/28
(Mon)
6/29
(Tue)
6/30
(Wed)
7/1
(Fri)
7/2
(Sat)
11:00AM
1:00PM
11:00AM
11:00AM
1:00PM
11:00PM
3:30PM
3:30PM
3:30PM
3:30PM
3:30PM
Production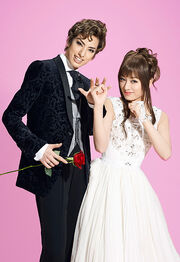 On January 11, 2019, a musical staged by the Takarazuka Revue's Flower Troupe (花組, Flower Troupe) was announced with Rei Yuzuka set to star.[10] Yuzuka's role as Tsukasa Domyoji was confirmed on February 15. Mirei Shiroki was cast as Tsukushi Makino with Kei Yunami, Asuka Seino, Raito Kinami as the rest of the F4.[4] Writer and director Kosaku Noguchi chose to focus on volumes one through eleven while writing the script due to length of the original manga and the musical being only two and a half hours.[11][12]
A production presentation was held on May 10, 2019 in Tokyo. Yuzuka, Shiroki, Yunami, Seino, and Kinami performed a song dressed as their respective characters.[11][13] Boys Over Flowers creator Yoko Kamio also attended.[14]
Broadcast
On June 29, 2019, a live broadcast of Hana Yori Dango was streamed across theaters in Japan, Hong Kong, and Taiwan.[15][16] It was broadcast on the cable channel, Takarazuka Sky Stage, in March 2020.[17] Hana Yori Dango was broadcast by Wowow on September 26, 2020 as a part of their "Invitation to Takarazuka" line-up.[18]
In August 2020, the musical became available on the streaming service, U-Next. It was one of fifty Takarazuka musicals selected for the platform at the time.[19] As of February 2021, Hana Yori Dango is available to stream on Amazon Prime in Japan.[20]
Promotion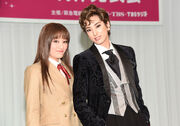 On May 25, 2019, a television special promoting the musical was shown on BS-TBS.[21] The program featured a variety of behind-the-scenes footage, including rehearsal scenes and interviews with the director and stars.[22][8] The next day, a special hour-long program featuring Yuzuka, Shiroki, and Noguchi was broadcast on TBS Radio. It was hosted by announcer Reina Minagawa (皆川 玲奈, Reina Minagawa).[23][24]
The cast was interviewed for the June 2019 issue of Margaret, the magazine that serialized the original manga.[25] Yuzuka was featured on the cover of Kageki's June issue.[26] Also in June, the main cast, Kurisu Oto, and Ririka Kaga were featured on Takarazuka Cafe Break.[27]
Home media
Hana Yori Dango was released on blu-ray by Takarazuka Creative Arts (TCA) on September 28, 2019. The performance featured was the June 29 showing and it runs for 172 minutes.[7]
Cover
Release date
Contents
September 28, 2019[7]

Set details[28]

1-disc set
Language: Japanese
Running time: 172 minutes

Special features[29]

Practice scene
Video: "Metamorphoses"/"Rumors"
Merchandise

In April 2019, a card of Hana Yori Dango's poster was published.[30] A performance program, still photos, as well as a postcard of Yuzuka and Shiroki, were released to coincide with the premiere of the musical.[29] Several stills of the actual performances were released following the musical's conclusion.[31] Some of the items are still available for purchase at Quatre Rêves Online.
Music
Hana Yori Dango features twenty-four songs written by Kosaku Noguchi and composed by Tomoko Aoki with a few exceptions.[32] The music was made available for purchase online on January 16, 2020. Nine songs from the musical are omitted from the digital album.[33]
All lyrics by Kosaku Noguchi and composition by Tomoko Aoki unless noted.[34]
"Hana Yori Dango—Boys Over Flowers—" (花より男子—BOYS OVER FLOWERS—)
Composition: Masahiro Hasegawa
"Good Morning Eitoku Academy"
"School Rulers—F4" (学園の支配者・F4)
"We Love F4"
"Luxury Lunch Time—Elegant Lunch" (LUXURY LUNCH TIME 優雅な昼食)
"Declaration of War" (宣戦布告)
"Kick Out—Banished" (KICK OUT 追放しろ)
"Flowers—Love's Flower—" (FLOWERS—恋の花—)
"Metamorphoses"
"A Walking Brand Man and a No Brand Woman" (歩くブランド男とノーブランドの女)
"Party Night"
"Straight Man" (まっすぐなあいつ)
"Flower Land" (フラワー・ランド)
"Rumors" (噂)
"Dangerous Night"
Composition: Masahiro Hasegawa
"Elegy of Beautiful Things" (美しきものの哀歌)
"Beach Summer Paradise"
Compostion: Makoto Miyazaki
"Duel" (Duel—決闘—)
"TOJ (Teen of Japan) 2019"
"Jingle Bells"
Composition: James Pierpont / Japanese Lyrics: Shoji Miyazawa
"Santa Claus Is Comin' to Town"
Lyrics: Haven Gillespie / Composition: J. Fred Coots / Japanese Lyrics: Takao Kanbe
"I Saw Mommy Kissing Santa Claus"
Lyrics / Composition: Thomas Patrick Connor / Japanese Lyrics: Kenji Sazanami
"Let It Snow! Let It Snow! Let It Snow!"
Lyrics: Sammy Cahn / Composition: Jule Styne
"White Christmas"
Lyrics / Composition: Irving Berlin
Gallery
Boys Over Flowers Wiki has a collection of images on this topic. (view gallery)
Videos
Notes
References
See also
External links
Community content is available under
CC-BY-SA
unless otherwise noted.