Hana Yori Dango: The Movie (花より男子 The Movie, Hana Yori Dango: The Movie), also shortened to Hana Yori Dango, is an animated film released on March 8, 1997[1] at the Spring Toei Anime Fair.[2] It features characters from the Boys Over Flowers anime, but is set in an alternate universe.[3][4] Shigeyasu Yamauchi, the series director of the anime, also directed the film.[5]
It stars the returning voices of Maki Mochida as Tsukushi Makino, Naoki Miyashita as Tsukasa Domyoji, and Koji Yamamoto as Rui Hanazawa.[6] The film was released in Japan on VHS in 1997[7] and later in a box set with the anime series in 2006.[8] It was not released in America until Discotek Media released a box set in 2016.[9]
Set in New York City, Tsukushi (Mochida) is a hardworking apprentice at a dance studio, of which Tsukasa (Miyashita) is the star dancer. When an opportunity arises for Tsukushi to dance in the next show, she has to prove herself to Tsukasa. Meanwhile, she develops a crush on the studio's songwriter Rui (Yamamoto) whom has his own relationship issues.
Plot
Tsukushi Makino (Maki Mochida) is an apprentice dancer at a studio in New York City, though she has only been doing the cleaning and laundry so far. As she goes about her work, she longs to dance in a show. That night, Tsukushi is walking home when she is suddenly struck by a hopeful feeling. She dances the rest of the way to her trailer, singing of "someday." The next day, Tsukushi practices her dancing after finishing the laundry. Tsukasa Domyoji (Naoki Miyashita) and Rui Hanazawa (Koji Yamamoto), followed by Akira Mimasaka (Yuta Mochizuki) and Sojiro Nishikado (Yoshihiko Akaida), are walking down the stairs and see her. They stare at her, before she quickly rushes pass them.
Later, Sakurako Sanjo (Rumi Shishido) runs up to Tsukasa. Nearby Yuriko Asai (Yoshiko Shimizu) voices her jealously over Sakurako being chosen as the leading actress. Her friends Minako Yamano (Nami Sato) and Erika Ayuhara (Sahori Kajikawa) share her sentiment. The three girls then push Tsukushi, causing the laundry to go everywhere. Some underwear land on Tsukasa's head, leading him to yell at Tsukushi. She is apologetic at first, but refuses to grovel to his arrogant attitude. Tsukushi declares "Don't get full of yourself just because you're the star." Rui picks up a handkerchief, shifting everyone's attention to him. Tsukushi blushes as she stares at Rui's receding back. Everyone else disperses.
That night, Tsukushi watches the practice for the upcoming production. Her friend, Kazuya Aoike (Yoji Ietomi) flashes the spotlight at her and waves hello. Another friend, Makiko Endo (Fuko Misaki) is a wardrobe assistant. She promises to design Tsukushi's costume for her first performance. Suddenly, the spotlight breaks and a large chord hits Sakurako, injuring her leg. Later, Kazuya says a tearful farewell to Tsukushi, informing her that his manager has fired him as a scapegoat. He apologizes for not being able to "light [her] up" on stage. The next day, Tsukushi meets with her journalist friend Yuki Matsuoka (Kanako Tobimatsu). She wants to write an article on Tsukushi when she becomes a "star."
That afternoon, Akira informs the dancers that Sakurako's role needs to be recast. Erika immediately suggests Yuriko, but Tsukasa insists "I'll choose my own partner." He then walks up to Tsukushi, asking "Why not show me what you've got?" She is able to keep up with him for a while, before tripping and falling to the floor. Tsukasa starts to dance with Yuriko instead. Tsukushi begins practicing vigorously at home and goes for a jog at the park the following day. She changes her clothes to practice dancing some more. Tsukushi hears a saxophone from nearby and finds Rui playing it. Several people begin dancing or playing along with him. Tsukushi joins in, thinking how wonderful Rui is though she insists "It's not love."
Sometime later, Tsukushi is walking by a parking lot when she spots Rui with Shizuka Todo (Keiko Imamura), whom she recognizes as a famous ballerina. She asks Rui to come with her to Paris. He tells her "Woman are selfish," to which she asks "Do you hate women like me?" Rui then leans her against the car and kisses her passionately. Tsukushi sits down and hugs her knees to herself, thinking "My chest hurts." Late that night, she practices by herself at the studio. She wonders why seeing the two together was "such a shock" for her, saying again "It wasn't love... I don't think." Abruptly, the lights are turned off and Tsukasa walks up to her saying "What are you staring at the wall for, apprentice?"
Tsukasa forces Tsukushi to dance with him in an attempt to prove she will never be more than an apprentice. Tsukushi falls again, but Tsukasa picks her up this time. She dances for a long time, before collapsing. Tsukasa then says "Well, I guess that's all you've got." Later, Tsukushi walks onto to the stage, having decided to give up her dream. As she is about to leave, Rui starts to play the piano and encourages her to dance. She nearly falls, but Tsukasa catches her and tells her "I told you, I choose my own partner." At Tsukushi's first performance, Kazuya works the spotlight, Yuki takes photographs of her, and Makiko has designed her costume. Tsukushi dances to "Ordinary Sunday" with the rest of the cast.
Cast and characters
Additional voices: Norito Yashima, Yusuke Oguri, Daisuke Kishio, Naomi Matamura[11]
Staff
Original work: Boys Over Flowers by Yoko Kamio
Director: Shigeyasu Yamauchi
Script: Yumi Kageyama
Producers: Tan Takaiwa, Tsutomu Tomari
Production supervisor: Osamu Honma
Editing: Masaaki Hanai
Planning: Hiromi Seki
Key animation directors: Yuji Kondo, Tomoaki Matsumoto
Assistant director: Tatsuya Nagamine
Art director: Yuki Yukie
Photography: Kazuhiro Yoshino
Music: Michiru Oshima
Production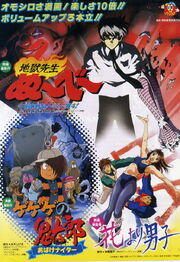 The distribution revenue for the Toei Anime Fair began falling in 1995. In an effort to attract female viewers, a film based on Boys Over Flowers was added to the line-up for the Spring Fair of 1997.[12] The Boys Over Flowers anime was still airing at the time, likely resulting in the decision to set the film in a different time and place.[3] Hana Yori Dango: The Movie premiered along side the films, Hell Teacher Nūbē: Gozen 0 toki Nūbē Shisu and GeGeGe no Kitarō.[13]
Boys Over Flowers director Shigeyasu Yamauchi also directed the film and Yumi Kageyama wrote the script. The majority of the its staff had worked on the anime previously.[3] The voice actors from the series also performed in it, including leads Maki Mochida, Naoki Miyashita, Koji Yamamoto, several minor characters, and background voices from Toei Academy.[11]
Home media
See also: Boys Over Flowers (anime)/Home media
The film was released on video cassette on November 14, 1997.[7] It was later included on the DVD box of the anime series on May 21, 2006.[8] The film was released in America on October 25, 2016 by Discotek Media, who included it in the anime box set as well.[14] It is only available with English subtitles. A trailer for the film was also included as a special feature.
Cover
Release date
Contents
VHS
November 14, 1997[7]

Details

Language: Japanese
Subtitles: None
Running time: 30 minutes
Music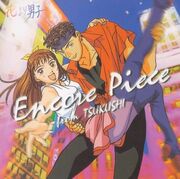 Main article: Encore Piece from Tsukushi
Encore Piece from Tsukushi is the soundtrack to Hana Yori Dango: The Movie as well as the second soundtrack for the anime series. It was released on March 21, 1997 by Bandai Music Entertainment.[15] Background music from the original anime and the movie can be found on the soundtrack.
"Ordinary Sunday" by Tomohiko Kikuta served as the theme song of the movie and the anime series. It is heard at the beginning of the film and played again at the end against the opening animation of the original series.
Reception
Box office
Hana Yori Dango: The Movie was released on March 8, 1997[1] at the Toei Anime Fair with Hell Teacher Nūbē: Gozen 0 toki Nūbē Shisu and GeGeGe no Kitarō.[13] The distribution income for the three films was considered a disappointment, earning 540 million yen.[16]
Gallery
Boys Over Flowers Wiki has a collection of images on this topic. (view gallery)
Boys Over Flowers Wiki has a collection of screenshots on this topic. (view category)
Videos
Notes
The film is the first of any media related to Boys Over Flowers to be a completely original story line.
It aired exactly one day before the premiere of the anime episode, "Sleepless Night!"
The anime's opening animation, which may have served as inspiration, is featured at the end of the film. A couple new scenes of Tsukushi dancing in her practice outfit are added.
References
See also
External links