Hana Yori Dango: Koi Seyo Otome! (花より男子 恋せよ女子!), (花より男子 恋せよ女子!) is a dating simulation game based on the manga, Boys Over Flowers by Yoko Kamio. The game was published by Konami on July 10, 2008,[2] after the premiere of Hana Yori Dango Final.
The user plays as a new student at Eitoku Academy, who befriends Tsukushi Makino. Eventually, the player can date the F4 members, Tsukasa Domyoji, Rui Hanazawa, Sojiro Nishikado, and Akira Mimasaka.
Storyline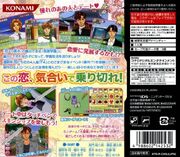 The player character essentially takes the place of
Tsukushi Makino
. She is a lower class student who enrolls at
Eitoku Academy
. When the player angers
Tsukasa Domyoji
of the
F4
, Tsukushi becomes her friend and ally. The game follows the the manga's plot, only placing the player at the center instead of Tsukushi.
[4]
[5]
Game play
The game functions in an almost real-time manner. For example, the player wakes up, has school in the morning, and sometimes goes on lunch or night outings. They then go to sleep, wake up, and start a whole new day. Tsukasa Domyoji, Rui Hanazawa, Sojiro Nishikado, and Akira Mimasaka are available for the user to date. How much they like the player depends on their affection level. To increase affection levels, the player should go on dates with him, obtain their email address, and other small things.[6]
Cast and characters
Trailer
Screenshots
References
See also
External links
Community content is available under
CC-BY-SA
unless otherwise noted.