Hana Yori Dango: F4 and First Kiss (花より男子~F4とファーストキス~, (花より男子~F4とファーストキス~ Hana Yori Dango ~F4 to Fāsuto Kisu~) is a dating simulation published by Voltage as a mobile phone app. It was released on July 3, 2015 in Japan. The game was available for download on the App Store, Google Play, and Mobage for Japanese users.[1][2]
The game was first announced in May 2015. It is loosely based on the manga, Boys Over Flowers by Yoko Kamio. She helped supervise the project as well as participating in the character designs.[3] On its second anniversary, Voltage announced the app's impending closure. It was officially shut down four months later on December 18, 2017.[4]
The story follows the player's character, who meets her wealthy father and transfers to Eitoku Academy. She has the choice to date the F4 members, Tsukasa Domyoji, Rui Hanazawa, Sojiro Nishikado, and Akira Mimasaka. Several new characters, including Takumi Kiritani and Kodai Sawashiro, were added at later dates.
Storyline
The story begins when the mother of the player's character dies and she meets her millionaire father, Kyoya Shinomiya (篠宮 恭哉, Kyoya Shinomiya) for the first time. She moves into her father's mansion, where Takumi Kiritani works as a butler. She attends Eitoku Academy and becomes a target of the F4. Tsukushi Makino befriends the player's character at this point.
Game play
The player initially had the choice of four routes, Tsukasa Domyoji, Rui Hanazawa, Sojiro Nishikado, and Akira Mimasaka. Kiritani, the character's butler, was released in September 2015, followed by Kodai Sawashiro, a friend of the player's character, in November. Four new love interests, called the S4, were later introduced for a limited time event.[5] The new characters were all designed by Yoko Kamio.[6]
The objective of the game was to read the story and reach the "Super Happy Ending." To continue reading, five love passes were given free everyday, but the player could purchase more. Additionally, two obstacles needed to be passed in order to proceed. They were called "princess degree check" and "dress code check." Princess degree were points acquired through winning "princess battles" and greeting other players. For dress code check, the player had a choice of two clothing options, resulting in either the "normal" or "special" route.
The player could also play a mini-game called "Gacha," which allowed them to win clothing or room items. Various events were held monthly, giving the users an opportunity to read limited time stories. Items could be purchased for the player's avatar and room. Purchasing such items usually helped the player continue on through the story.
Icon
Tsukasa was featured as the game's icon from July 2015 until an update in late November. It was changed to Sojiro for Android and Google Play, and Rui for iOS and Mobage to reflect the Christmas season as well as Sojiro's birthday. After Sojiro's birthday event, the icon was changed to Rui Hanazawa on Android and Google Play also. On February 22, 2016, the icon was changed to Akira for his birthday event. It was changed again in May 2016 to Sojiro. The next icon pictured Rui and Tsukasa from June 2016 to June 2017. The last icon of the app featured chibi versions of the F4 celebrating.
Character appearances
| | |
| --- | --- |
| | New characters |
Promotion
On September 19, 2015, a thirty-second commercial for the game began airing nationwide and ended its run on October 31.[7]
Events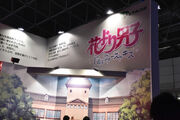 Tokyo Game Show: Voltage showcased the game at the Tokyo Game Show in their booth from September 17 to September 20, 2015. Yuya Matsushita, Jin Shirasu, Ryuji Kamiyama, and Mackenyu from Hana Yori Dango: The Musical also made a special appearance as the F4 at Voltage's booth on September 19.[8][9]
Hana Yori Dango Café: Voltage announced the opening of a Hana Yori Dango-inspired café on October 5, 2015. The event opened on October 9 at Sweets Paradise in Shibuya, Tokyo. Various F4-themed food were available to order. The event was scheduled to end on January 10, 2016, however Voltage later extended it to January 28.[10][11]
Animate Girls Festival: A booth for Hana Yori Dango: F4 and First Kiss was featured at the Animate Girls Festival (AGF) in 2015. The event, held yearly, focuses on otome games, anime, food, and cosplay. In 2015, it was held on November 7 and 8 at Sunshine City in Ikebukuro, Tokyo.[12][13][14]
Gallery
Boys Over Flowers Wiki has a collection of images on this topic. (view gallery)
Video
Notes
References
See also
External links