Hana Sugisaki (杉咲 花, Sugisaki Hana, born October 2, 1997 in Tokyo, Japan) is a Japanese actress. She is well known for her roles in television, Yakou Kanransha, Gakko no Kaiden, and film, Her Love Boils Bathwater, Blade of the Immortal, and Mary and the Witch's Flower.
In 2018, she starred as Oto Edogawa in the series, Hana Nochi Hare: Hanadan Next Season.
Biography
Early life
Sugisaki was born on October 2, 1997 in Tokyo to singer Chie Kajiura and Red Warriors guitarist Takehiko Kogure. Kogure was also a member of the rock band Rebecca. Her parents divorced in 2000. Sugisaki has a half-brother from her father's third marriage.[1]
Career
Beginnings
She signed with Stardust Promotion as a child actress under the stage name, Hana Kajiura (梶浦 花, Hana Kajiura).[2] One of her early roles was in Marumaru Maruko-chan (2007) at the age of ten.[3] Sugisaki left the industry for a brief time, before signing with Ken-On. She re-debuted under the name Hana Sugisaki in April 2011.[4] Sugisaki's first drama after her second debut was in a episode of Don Quixote (2011) starring Shota Matsuda.[5] The same year, she had reoccurring roles in Ouran High School Host Club and Yokai Ningen Bem,[6] both of which ended in films.[7][8] In 2012, she appeared in Kazoku no Uta[9] and Kuro no Onna Kyoshi.[10] Sugisaki was a regular in Yakou Kanransha alongside Taishi Nakagawa in 2013.[11]
In 2014, she had reoccurring roles in Emergency Interrogation Room,[12] Nazo no Tenkosei,[13] and Mozu.[14] The same year, she had a voice role in Studio Ghibli's When Marnie Was There.[15] After appearing in Gakko no Kaiden,[16] Sugisaki had her first starring role in 2015's Kaseki no Hohoemi.[17] The same year, she won Best Newcomer for her roles in Pieta in the Toilet and The Pearls of the Stone Man at the Yokohama Film Festival.[18] In 2016, Sugisaki won Best Supporting Actress at the Japan Academy Awards for her performance in Her Love Boils Bathwater starring Rie Miyazawa.[19] She also appeared in the asadora drama Toto Neechan and the mystery series Montage that year.[20][21]
Rising star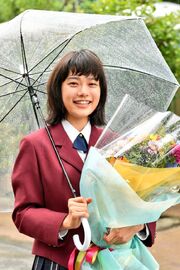 Sugisaki costarred in Takashi Miike's Blade of the Immortal with Takuya Kimura[22] and voiced the title character in Mary and the Witch's Flower in 2017.[23] In 2018, Sugisaki starred in the live-action adaptations of the manga series, Perfect World,[24] Hana Nochi Hare: Hanadan Next Season,[25] and Bleach,[26] as well as the anthology film, Ten Years Japan.[27] Later in 2018, she launched her thirty-minute radio talk show on Tokyo FM.[28] She starred in the ensemble film Juninen no Shinitai Kodomotachi with Mackenyu in January 2019.[29] The same month, she started appearing in NHK's Taiga drama Idaten[30] and Haken Uranaishi Ataru.[31] Sugisaki went on to star in the film The Promised Land,[32] and the anthology series Yonimo Kimyona Monogatari in late 2019.[33]
In 2020, she appeared in the films Yayoi, Sangatsu[34] and Blue, Painful, Fragile.[35] Starting in November 2020, Sugisaki starred in the asadora drama, Ochoyan,[36] which is expected to conclude in May 2021.[37] Her upcoming projects include voicing the heroine in the animated film, Cider no You ni Kotoba ga Wakiagaru,[38] Takashi Miike's The Great Yokai War: Guardians,[39] and starring alongside Jun Matsumoto in 99.9% Keiji Senmon Bengoshi: The Movie.[40] She will also star in the television drama, Koi Desu: Yankee-kun to Hakujo Garu, which is set to air in October 2021.[41]
Filmography
Television dramas
Year
Title
Role
Notes
2007
Marumaru Maruko-chan
Himeko Jogasaki
2008
Sasaki Fusai no Jingi Naki Tatakai
Sasaki Ritsuko (young)
Episode 2
2009
Otomen
Mari
Episode 3
2011
Don Quixote
Rina Takazawa
Episode 7
Ouran High School Host Club
Reiko Kanazuki
Episodes 7-11
Yokai Ningen Bem
Yui Natsume
2012
13-sai no Hello Work
Chisato Saeki
Episode 2
Kazoku no Uta
Kokoro Osawa
Kuro no Onna Kyoshi
Kaoru Noma
Resident – 5-nin no Kenshui
Ruka Ueno
Episode 4
2013
Yakou Kanransha
Ayaka Endo
Neo Ultra Q
Hikaru Tachibana
Episode 12
Namonaki Doku
Michika Furuya
Episodes 6-11
Kounotori no Yurikago
Mai Yasuda
Special
2014
Emergency Interrogation Room
Nao Makabe
Nazo no Tenkosei
Asuka
Shuchaku: Sousa Ikka Sawamura Keiji 2
Chiemi Hazama
Special
Mozu
Megumi Osugi
Shinigami-kun
Hitomi Saionji
Episode 3
Jiken Kyumeii: IMAT no Kiseki~ 2
Aki Tachibana
Special
2015
Gakko no Kaiden
Mimori Koda
Kaseki no Hohoemi
Ayami Nakamura
2016
Toto Neechan
Yoshiko Kohashi
Montage
Natsumi Nakano
2017
Reverse
Ayaka Endo
Cameo
Keiji Yugami
Nozomi Sakaki
Episode 1
2018
Hana Nochi Hare: Hanadan Next Season
Oto Edogawa
2019
Idaten
Shima
Haken Uranaishi Ataru
Ataru Matoba
Yonimo Kimyona Monogatari
Naomi Furukawa
Special
2020
Ochoyan
Chiyo Takei
2021
Koi Desu: Yankee-kun to Hakujo Garu
Yukiko Akaza
Films
Notes
Sugisaki cut her then trademark long hair by 30 centimeters to portray Oto.[42] She has kept her hair short post-Hana Nochi Hare.
An official Instagram for Hana Nochi Hare was created on February 17, 2018.[43] Besides being named after Sugisaki's character, she also took several of the photos that were posted.[44]
Yoko Kamio gave her an illustration of Oto on March 1, 2018.[45]
In 2018, Sugisaki spent her birthday with friends, including Hana Nochi Hare costar Marie Iitoyo.[46]
She and Shun Oguri played siblings in a commercial for Ajinomoto's food brand "Hondashi" in 2018.[47] They reunited for another commercial in 2020 with Ryunosuke Kamiki playing their brother.[48]
In January 2021, Sugisaki reunited with Sho Hirano in a commercial for Hulu.[49]
References
External links