Hana Nochi Hare: Hanadan Next Season (花のち晴れ 〜花男 Next Season〜), (花のち晴れ 〜花男 Next Season〜) is a television drama based on Yoko Kamio's sequel to her hit manga Boys Over Flowers.[1] The drama was directed by Yasuharu Ishii and produced by Katsuaki Setoguchi, who both worked on Hana Yori Dango (2005) and its sequels.[2][3]
The story takes place after Hana Yori Dango Final (2008).[2] Hana Sugisaki stars as the series' heroine, Oto Edogawa. Sho Hirano and Taishi Nakagawa play opposite her as Haruto Kaguragi and Tenma Hase.[4] Hana Nochi Hare premiered on April 17, 2018 on TBS[5] and concluded on June 26.[6] It was released on DVD in October 2018.[7]
Oto (Sugisaki) is a student at Eitoku Academy, which is now ruled by the C5. She keeps her "commoner" status a secret, so she may remain at school. One day, she and the C5's leader, Haruto (Hirano), learn each other's secret. After a bad first impression, the two become friends and Haruto falls for Oto. She, however, has a fiancé named Tenma (Nakagawa).
Summary
Oto Edogawa (Hana Sugisaki) has to keep her family's bankruptcy a secret from her classmates at Eitoku Academy. She avoids the C5, who "hunt" the school's poor students. After meeting Tsukasa Domyoji, Haruto Kaguragi (Sho Hirano) formed the C5 with his comrades Kaito Taira (Tatsuomi Hamada), Airi Maya (Mio Imada), Sugimaru Eibi (Keisuke Nakata), and Issa Narumiya (Jin Suzuki). One day, Haruto sees Oto at her part-time job and she learns about his secret hobby. He tries to intimidate her into leaving school, though she gets the upper hand by blackmailing him. Haruto then attempts to make her fall in love with him. Oto slaps him with a piece of meat, after he insults her friend and coworker, Arisa Konno (Haruka Kinami). Haruto chases after her and ends up saving her from a coworker.[8]
Oto later reveals to Haruto that staying at Eitoku is a condition of her arranged engagement to Tenma Hase (Taishi Nakagawa). In shock, Haruto insults Oto. The C5 later disguise themselves and sneak into Momonozono Academy, Eitoku's rival. They are quickly spotted, but Tenma, the student president, covers for them. After meeting Tenma, Haruto finds himself at Oto's work and he apologizes for earlier. The next morning, Haruto admits his feelings for Oto to Kaito.[9] Airi leaks to the whole school about Oto being a "commoner." Oto decides to quit, but the other students begin bullying her anyway. Tenma, having paid her tuition, arrives in time to save her. Haruto feels guilty and visits her at the hospital after receiving advice from Rui Hanazawa (Shun Oguri). Oto and Haruto become friends again.[10]
After apologizing, Airi asks Oto to be her friend and wins her over by telling her about her childhood. A few days later, Airi goes out with Oto and Haruto. She locks Oto into a walk-in freezer, in which she trapped Tenma earlier. Haruto rushes to help them and ends his friendship with Airi. Airi later goes missing. Oto finds her at an abandoned factory. Haruto, whom had acted unconcerned, arrives and carries Airi home.[11] At Issa's exhibit, Haruto meets Megumi Nishidome (Marie Iitoyo) in the onsen by accident. She visits Eitoku to return his wallet. Seeing them together makes Oto jealous and she refuses to listen to Haruto. Several days later, Oto goes on a date with Tenma. They run into Megumi, who asks if she can pursue Haruto. Oto says "Go right ahead." She later asks Tenma to be her official boyfriend.[12]
Megumi attempts to cheer up a depressed Haruto by taking him to an amusement park. There they happen to see Oto and Tenma. The two couples spend an uneasy day together, after Megumi suggests a double date. That night, Oto realizes that she has to settle things with Haruto in order to reassure Tenma. Haruto tells Oto that he loves her. She thanks him for being honest but restates that she is dating Tenma.[13] After being rejected, Haruto tries to focus on being the C5's leader and start "peasant hunts" again. Oto worries that she caused Haruto's change as she prepares to transfer to Momonozono. After a fight with his father (Kenichi Takito), she finds Haruto and reminds him to be himself. The next day, he makes an impassioned speech to his classmates, deciding to quit "peasant hunts."[14]
After Eitoku is vandalized, Haruto decides to seriously consider dating Megumi and starts planning her birthday party. Meanwhile, Tenma's parents Kazuma (Tet Wada) and Rie Hase (Saki Takaoka) are convinced that he is being treated poorly by Oto. They arrange a dinner to talk things out. Oto has to leave it to warn the C5 about the vandal being at Megumi's party. Haruto later explains what happened to Tenma's parents.[15] The next day, a stranger attacks Oto with mace. She later learns that Tenma's friend Jin Konoe (Riku Kashima) is behind all of the attacks on Eitoku. Tenma thinks she is mistaken, but Haruto believes her. Tenma later confronts Haruto, who admits that he has not given up on Oto. Haruto's father witnesses his son's attempts to fight Tenma and proposes a competition between the two.[16]
Oto realizes that she has feelings for Haruto, but decides to stay with Tenma. Nevertheless, she becomes upset with the C5, whom do not believe Haruto has a chance against Tenma. They are moved by her words to support him and later recruit the help of Sojiro Nishikado (Shota Matsuda). Meanwhile, Megumi struggles with her emotions since Haruto has to stay with her if he loses per his father's conditions.[17] After losing the first round, Haruto pulls a surprise win in the second. Megumi makes up her mind to support him and breaks up with him. Haruto ultimately wins the whole competition, earning some approval from his father. Tenma later ends his engagement with Oto and encourages her to "follow [her] feelings." Oto then rushes toward Yebisu Garden Place, where Haruto had promised to wait for her.[18]
Cast and characters
​
Starring

Guest starring

Special appearance

Class 2-D students

Azusa Minamiyama as Midori Shiina
Haruka Imou as Makoto Murotani
Hiroki Kobayashi as Yugo Tokiwa
Juhara Akito as Ayato Kadowaki
Keito Kanamori as Hayato Tsumori
Kosuke Naito as Kotaro Momiyama
Masakazu Kanda as Akira Miyamichi
Mayuna Saburi as Mayuko Midorikawa
Mina Sayado as Kirara Komiyama
Moka Yamazaki as Kanako Utashiro
Naito Kosuke as Kotaro Momiyama
Naoki Saito as Ren Tadano
On Nakano as Reo Shinohara
Ran Tamai as Misono Kitashino
Reina Usui as Shiori Hibiya
Shutaro Kadoshita as Tsunenari Saeki
Takaaki Nakamura
Takeru Komiyama as Hiroki Kozono
Tamotsu Kansyuji as Riku Kirishima
Umino Kawamura as Serika Uno
Yu Doi as Aoi Yosano
Yumeno as Yuzuki Minase
Staff
Episodes
Main article: Hana Nochi Hare: Hanadan Next Season/Episodes
No.
Title[25][26]
Air date
1
"A new chapter of Hanadan opens!"
"Hanadan shinshō kaimaku"

(花男新章開幕!)

April 17, 2018[27]
2
"Sneaking into the rival school!? Clash!! Weakling guy vs. the fated fiancé"
"Raibaru-kō ni sennyū!? Gekitotsu!! Hetare danshi vs. unmei no konyakusha"


(ライバル校に潜入!?激突!!ヘタレ男子vs.運命の婚約者)

April 24, 2018[28]
3
"A commoner's desperate situation! Her savior...a weakling!? Or her fiancé!?"
"Shomin bare zettaizetsumei! Kyūseishu wa...hetare otoko!? Konyakusha!?"


(庶民バレ絶体絶命!救世主はヘタレ男!?婚約者!?)

May 1, 2018[29]
4
"Sadistic devil's counterattack, parting tears... New rival appears!"
"Do S koakuma no gyakushū, namida no wakare...shin raibaru tōjō!


(ドS小悪魔の逆襲、涙の別れ・・・新ライバル登場!)

May 8, 2018[30]
5
"A rival in love appears! Love square starts!? First time confessing love!?"
"Koigataki genru! Shikaku kankei sutāto!? Jinsei hatsu no ai no kokuhaku!?"


(恋敵現る!四角関係スタート!?人生初の愛の告白!?)

May 15, 2018[31]
6
"Fateful double date!! Confession tears, and then a first kiss"
"Unmei no W dēto! ! Namida no kokuhaku, soshite hajimete no kisu!"


(運命のWデート!!涙の告白、そして初めてのキス!)

May 22, 2018[32]
7
"Domyoji's house again!! Bye-bye, young man"
"Dōmyōji-tei futatabi!! Bai bai hetare danshi"


(道明寺邸ふたたび!!ばいばいヘタレ男子)

May 29, 2018[33]
8
"A birthday party of love and friendship! Staking an engagement on a dinner party"
"Ai to yūjō no tanjō pātī! Konyaku o kaketa shokujikai"


(愛と友情の誕生パーティー!婚約を賭けた食事会)

June 5, 2018[34]
9
"Love's destiny and marvel, really liking someone!?"
"Unmei no koi to kiseki no koi, hontō ni sukina hito wa!?"


(運命の恋と奇跡の恋、本当に好きな人は⁉︎)

June 12, 2018[35]
10
"Risking love and pride on the final battle! The victor is..."
"Ai to puraido o kaketa saishū kessen! Katsu no wa..."


(愛とプライドを賭けた最終決戦!勝つのは…)

June 19, 2018[36]
11
"The strongest love comedy finally concludes! I can be myself with the person I like"
"Saikyō rabukome tsuini kanketsu! Jibun rashiku irareru sukina hito"


(最強ラブコメついに完結!自分らしくいられる好きな人)

June 26, 2018[37]
Production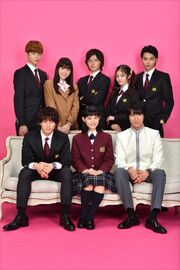 On January 24, 2018, an adaptation of Yoko Kamio's Boys Over Flowers Season 2 was announced. Up-and-coming actors Hana Sugisaki, Taishi Nakagawa, and singer Sho Hirano were cast as the series' leads Oto Edogawa, Tenma Hase, and Haruto Kaguragi.[1] Hana Yori Dango's Katsuaki Setoguchi and Yasuharu Ishii returned as producer and director with Heroine Shikkaku writer Erika Yoshida.[3] Hana Nochi Hare is a serves as a sequel to TBS's Hana Yori Dango (2005), Hana Yori Dango Returns (2007), and Hana Yori Dango Final (2008).[2]
Auditions for various supporting roles were held on January 28, 2018,[38] while wardrobe fittings began on February 9.[39] The Correct 5's jackets were made by the French company, Dormeuil.[40] On February 17, Tatsuomi Hamada, Marie Iitoyo, Mio Imada, Jin Suzuki, and Keisuke Nakata were added to the cast.[41] Shooting begin in late February. Some of the locations were also used for Hana Yori Dango, notably Yebisu Garden Place.[42]
Broadcast
Hana Nochi Hare began airing on TBS on April 17, 2018. It aired on Tuesdays at 22:00 for eleven episodes.[43] Internationally, the series has been broadcast in Hong Kong,[44] Taiwan,[45] and the Philippines.[46][47]
Streaming
In August 2019, the series was made available to rent on the Japanese service Paravi.[48] It was one of several shows available for free on Paravi in response to school closures during the 2020 coronavirus pandemic.[49] In mid-2021, it was available for free again to celebrate Hirano's role in Kaguya-sama: Love Is War Final.[50]
Promotion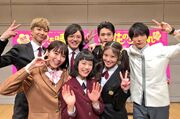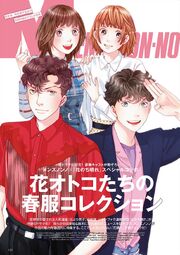 An official Twitter account and web page for Hana Nochi Hare was created on January 23, 2018.[51][52] On February 16, an Instagram account was launched under the username, "oto_edogawa". It is also referred to as "Oto Gram" (音グラム, "Oto Gram") and Sugisaki was in charge of taking many of the photos.[53] Later in February, the drama's "crank-in", signifying the start of filming, was covered by several news outlets, such as Yahoo! Japan[54] and Model Press.[55]
Sugisaki, Nakagawa, and Iitoyo walked the runway at the Tokyo Girls Collection (TGC) show on March 31, 2018.[56] On April 7, a special preview of Hana Nochi Hare was shown. Over 10,000 people applied to attend, but only 200 were selected. The stars of the drama walked the red carpet, before the preview.[57]
Interviews
On March 10, Sugisaki, Hirano, and Nakagawa were interviewed on King's Brunch as a part of the segment, "New Spring Drama Report".[58][59] Hirano's band King & Prince performed the series' theme song, "Cinderella Girl" on "CDTV Special! Graduation Song Music Festival" in late March.[60] Nakagawa and Sugisaki were also interviewed on the program.[61] On March 31, Sugisaki, Hirano, Nakagawa, Hamada, Iitoyo, Haruka Kinami, Saki Takaoka, and Momoko Kikuchi appeared on TBS's All-Star Thanksgiving.[62]
Hirano and Nakagawa were interviewed in the April issue of TVfan Cross.[63] Sugisaki and Hirano graced the cover of Weekly The Television on April 4.[64] Jun Matsumoto and Mao Inoue previously appeared on the cover together to promote Hana Yori Dango.[65] Sugisaki, Hirano, and Nakagawa were interviewed for Margaret's 2000th issue, which also featured a special chapter of Boys Over Flowers.[66] Nakagawa, Hirano, Hamada, Suzuki, and Nakata modeled for the May 2018 issue of Men's Non-no. Suzuki and Nakata, who are exclusive models for the magazine, were interviewed. Kamio also provided new illustrations.[67]
Home media
Hana Nochi Hare was released on DVD and blu-ray on October 26, 2018.[7][68] To commemorate the release, an exhibit was held at HMV&Books Shibuya from October 25 to November 7.[69] The main characters costumes were among the items on display.[70] 90,000 copies of the DVD and 70,000 of the blu-ray were sold during its first week of release. It was ranked third on Oricon's DVD charts and seventh on the blu-ray charts. The DVD and blu-ray both ranked first in the drama category.[71]
Cover
Release date
Contents
Japan (DVD & blu-ray)
October 26, 2018[7][68]
(DVD and blu-ray)

Set details

6-disc set (DVD), 4-disc set (blu-ray)
16:9 aspect ratio
Language: Japanese
Subtitles: Japanese
Running time: 616 minutes
Dolby Digital 2.0

Bonus[72]

Episode 1 commentary
Special roundtable discussion
Premiere preview
Crank-Up Collection
Music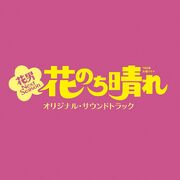 Main article: Hana Nochi Hare Original Soundtrack
The first soundtrack to Hana Nochi Hare was released on June 6, 2018 by Anchor Records.[73] A second soundtrack was released on June 20.[74]
King & Prince's debut single "Cinderella Girl" served as the show's theme song. It was released on May 23, 2018.[75] Hikaru Utada performed the drama's insert song, "Hatsukoi" ("First Love"). Utada previously wrote and performed "Flavor of Life" for Hana Yori Dango Returns.[76][77]
Merchandise
TBS released a few items for Hana Nochi Hare for a limited time, including a replica of the gold pig charm. It sold for ¥2,200. Other objects include folders for Eitoku and Momonozono Academy, a set of two key-chains modeled after Oto and Haruto's uniforms, and a box of cookies.[78] Additionally, a bear key-chain is included with the purchase of the DVD or blu-ray box set from TBS's website.[79]
Reception
Hana Nochi Hare was generally well received by audiences.[80] During its airing period, the series was a hot topic on social media. Cameos by Hana Yori Dango veterans, such as Shun Oguri, were particularly talked about.[81] Hana Nochi Hare consistently ranks high on online rankings.[82] For example, it ranked number one on a list of school dramas from 2010s.[83]
Ratings
Accolades
Gallery
Boys Over Flowers Wiki has a collection of images on this topic. (view gallery)
Boys Over Flowers Wiki has a collection of screenshots on this topic. (view category)
Videos
Notes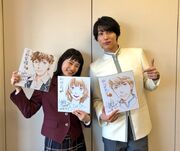 References
See also
External links