Boys Over Flowers is a shojo manga series written and illustrated by Yoko Kamio. It was published from March 1992 to August 2003 in the Japanese manga magazine, Margaret.[1] Boys Over Flowers concluded with thirty-sixth volumes, though a thirty-seventh volume was released in June 2008.[2] The series has been published in atleast seventeen countries,[3] which includes the regions of Asia (Taiwan, South Korea, Vietnam, Hong Kong, Thailand, etc.), Europe (France, Italy), and North America. Kamio's other series, including Boys Over Flowers Season 2, Cat Street, Matsuri Special, Tora to Okami, and Crown of Thorns have also been published around the world.
Comics Directory has published Boys Over Flowers in Malay.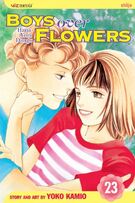 See also: Boys Over Flowers/Chapters
See also: Boys Over Flowers Season 2/Chapters
In 2003, Viz Media bought the licensing rights for Boys Over Flowers.[17] They published the first volume on August 6, 2003.[18] On October 13, 2009, Viz released the thirty-seventh volume with the subtitle, "Jewelry Box".[19]
Viz published
Boys Over Flowers Season 2
simultaneously with Japan, starting on February 15, 2015.
[20]
They also released the fifteen volumes of the series digitally.
[21]
References
See also