Upcoming!
This page contains, or revolves around, media that has not yet been released, therefore the information is subject to dramatic change as the release date approaches.
F4 Thailand: Boys Over Flowers is an upcoming Thai drama based on the Japanese manga, Boys Over Flowers by Yoko Kamio. The project was first announced by GMMTV in October 2019.[4] Filming, which began in early 2021,[5] has taken several breaks due to the rising cases of COVID-19 in Thailand.[6] It is expected to air during the fall of 2021.[3]
The series is a co-production between GMMTV and Parbee Taweesuk. Patha Thongpan is directing.[7] A teaser was released in September 2020, revealing the series' stars Vachirawit Chivaaree, Tontawan Tantivejakul, Metawin Opas-iamkajorn, Jirawat Sutivanichsak, and Hirunkit Changkham.[8] In December, a demo trailer was released.[9]
Premise
Producer Sataporn Panichraksapong and director Patha Thongpan have commented on adapting the manga for a modern Thai society. Thongpan also spoke about focusing on social issues, such as bullying, and taking a more serious take on them than previous versions. F4 Thailand will focus on heroine Gorya (Tu) and her interactions with the F4: Thyme (Bright), Ren (Dew), Kavin (Win), and MJ (Nani).[10]
The demo trailer opens with the F4 bullying students, and then using money to cover it up and earn praise instead. Gorya's life is "turned upside down" after she stands up to Thyme, which sparks a change that eventually leads him to become a "new person." Along the way, she meets several people, including Thyme's mother (Cindy Bishop) and older sister (Maria Poonlertlarp).[11] Other confirmed characters are Kaning (Prim), Gorya's best friend,[12] and Ren's love interest whose name may be Hana.[13]
Cast and characters
Costarring[16]
Staff
Episodes
Main article: F4 Thailand: Boys Over Flowers/Episodes
Production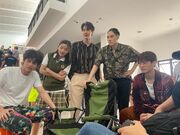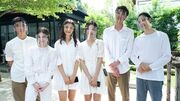 On October 15, 2019, GMMTV announced at their "2020 New & Next" conference that they obtained the license for Boys Over Flowers.[21] A casting call for the F4 was made on social media in March 2020. Applicants were required to be between the ages of 17 and 23, and over 180 centimeters in height.[22] On September 16, 2020, it was revealed that Tontawan Tantivejakul was cast as the female lead with Vachirawit Chivaaree, Metawin Opas-iamkajorn, Jirawat Sutivanichsak, and Hirunkit Changkham playing the F4.[23] F4 Thailand is a co-production between GMMTV and Parbdee Taweesuk with Patha Thongpan directing.[7]
A demo trailer was shot in November 2020.[24][25] On December 6, a special ceremony was held to wish the production good luck. It was attended by some of the cast and staff.[26] Filming began in early 2021.[5] The production has taken several breaks due to COVID-19 pandemic in Thailand. As of early June 2021, thirty to thirty-five percent of the series has been filmed.[27]
Broadcast
F4 Thailand is currently expected to be broadcast on GMM 25, though the date and time have not yet been announced.[28]ABS-CBN will broadcast the series in the Philippines,[29] while it will air on TV Asahi in Japan.[30]
Promotion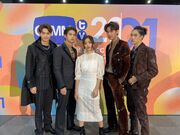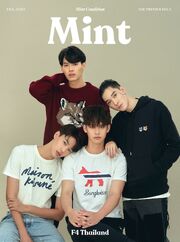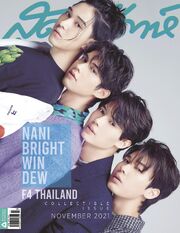 Promotional photos and a teaser were released along with the announcement of the main cast in September 2020.[8] In October 2020, Tantivejakul, Sutivanichsak, and Changkham made their first public appearances at Lazada Women's Festival.[31][32] The four male stars appeared together at Lazada's SuperShow in November 2020.[33] On December 3, 2020, the first trailer for F4 Thailand was released at GMMTV's "The New Decade Begins" conference.[9][16] The following day, the series' stars walked the runway at Millennials Choice 2020.[34]
In March 2021, the actors playing the F4 starred in a commercial for Dutch Mill.[35] On March 29, the actors performed at the Dutch Mill Prom Party.[36][37] The four appeared in a second Dutch Mill commercial in July.[38] Opas-iamkajorn hosted the May 16 episode of GMMTV's web series Live at Lunch.[39] Sutivanichsak and Changkham hosted the May 19 episode together[40] and were joined by Chivaaree and Opas-iamkajorn near the end.[41] The four actors hosted it together on June 14.[42]
Interviews
The actors playing the F4 were interviewed for the premiere issue of Mint, which was published on September 17, 2020.[43] In December, Chivaaree and Opas-iamkajorn collaborated with Mint for "BrightWin x MintEscape,"[44] while Tantivejakul and Changkham appeared in the "Mint Toy" section.[45] Tantivejakul was featured in Mint with her brother Tonhon Tantivejakul for the "Mint Beauty School" column in June 2021.[46] Sutivanichsak was also interviewed in the same issue.[47]
In January 2021, Chivaaree and Opas-iamkajorn were featured on two separate covers of Kazz Magazine.[48] Sutivanichsak made the cover of Lips Garcon the following month.[49] Harper's Bazaar Men featured Chivaaree and Opas-iamkajorn in a surprise issue released in March.[50] The pair have separately been featured in GQ Thailand in April[51] and September.[52] In November, the F4 actors will be on the cover of a special issue of Sudsapda.[53]
Gallery
Boys Over Flowers Wiki has a collection of images on this topic. (view gallery)
Videos
Notes
References
See also
External links
GMMTV