Emu: "Emu doesn't want you to go away from us."
Memu: "Memu doesn't either."
— The Twins' attachment to Akira
Emu (絵夢, Emu) and Memu Mimasaka (美作 芽夢, Mimasaka Memu) were the younger twin sisters of Akira Mimasaka. They were particularly attached to Akira and hated to be apart from him, often crying when they had to leave him. Both girls resembled their mother in appearance as well as in personality. They often went overseas with their parents.
Biography
Early life
Emu and Memu were born to the mother and father, who owned a trading company. They were several years younger than their older brother, Akira.[1] The girls both idolized Akira and greeted him each morning with a hug. They also regularly claimed that they wanted to marry him when they grew up.[2] One day, the twins met Tsukushi Makino. Their interest quickly returned to their brother, whom they begged to go to Spain with them. Emu and Memu were still crying when they were taken away by their mother and a servant.[1]
Around three years later, Akira and Sojiro brought the twins to the airport. The girls were going to Switzerland for three weeks to join their parents. Both Emu and Memu clung to their brother's neck and promised to call him multiple times a day. He was eventually able to get them on the plane.[3]
Physical appearance
The twins were like smaller versions of their mother, from whom they inherited their facial features and hair. Emu and Memu typically wore their long, wavy hair in the same or similar style to one another. The style their hair was most often seen in was a half-up do. The clothes the twins wore usually matched their mother's. Their wardrobe consisted of long, frilly dresses.
Personality and traits
Being young children, Emu and Memu were extremely attached to their brother. They hated to be apart from him for any length of time and often begged for him to go with them. Both twins also said they wanted to marry him when they grew up. Likely due to their age, they were unaware of how their behavior often left him exhausted. The girls were usually happy and smiling, outside of the times when they parted from Akira.
Behind the scenes
Character notes
Portrayals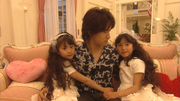 Twins Himawari and Imari Kitayama portray Emu and Memu in episodes three and eleven of Hana Yori Dango Returns (2007).[6] The child actresses are now retired. Like in the manga, the twins are overly attached to their brother and both say that they are going to marry him in the future. Both have a brief cameo with their mother in the last episode during the end credits.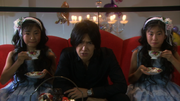 The twins appear briefly at the beginning of Hana Yori Dango Final (2008). They are portrayed by older actresses, which is likely due to the fact that the films is set four years after Returns.
Appearances
Boys Over Flowers
Volume 1
Volume 2
Volume 3
Volume 4
Volume 5
Volume 6
Volume 7
Volume 8
Volume 9
Volume 10
Volume 11
Volume 12
Volume 13
Volume 14
Volume 15
Volume 16
Volume 17
Volume 18
Volume 19
Volume 20
Volume 21
Volume 22
Volume 23
Volume 24
Volume 25
Volume 27
Volume 28
Volume 29
Volume 30
Volume 31
Volume 32
Volume 33
Volume 34
Volume 35
Other
Boys Over Flowers Season 2
Volume 1
Volume 2
Volume 3
Volume 4
Volume 5
Volume 6
Volume 7
Volume 8
Volume 9
Volume 11
Volume 12
Volume 13
Volume 14
Volume 15
References
See also