Wang is a common Chinese surname. For others who share the name, see Wang.
Wang He Di (Chinese: 王鹤棣; pinyin: Wáng Hèdì, born December 20, 1998 in Chengdu, China), also known by his English name Dylan Wang, is a Chinese actor. Wang is best known for playing Dao Ming Si in the 2018 drama, Meteor Garden which was also his debut. He has since become a regular on television.
Biography
Early life
Wang was born on December 20, 1998 in Chengdu in the Sichuan province of China.[1] He studied Sichuan Southwest College of Civil Aviation, where he became the face of the school being featured on enrollment posters. Wang was also their spokesman for flight attendants.[2]
Career
Beginnings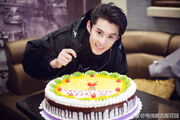 In 2016, Wang won the inaugural championship at the "Sichuan Campus Red Festival,"[3] which marked his decision to enter the entertainment industry.[2] he began appearing on the Youku variety show Super Idol (超次元偶像) hosted by He Jiong in June 2017.[4] His future Meteor Garden costar Liang Jing Kang also appeared in it.[5] That August, Wang was declared the champion of the show.[6] He subsequently appeared in Harper's Bazaar China with his Meteor Garden costars Darren Chen, Liang, and Caesar Wu in November 2017.[7] Later that month, it was revealed that Wang was cast as Dao Ming Si at a press conference in Shanghai.[8] Meteor Garden premiered on July 9, 2018.[9] Wang was a regular on season two of the variety show, The Inn, in late 2018 with Shen Yue.[10]
His casting in Ever Night 2 opposite Song Yiren was announced in January 2019. He replaced Arthur Chen as Ning Que.[11] Ever Night 2 aired in early 2020.[12] Wang starred in The Rational Life[13] and Miss the Dragon in 2021.[14]
Filmography
Television dramas
Year
Title
Role
Notes
2018
Meteor Garden
Dao Ming Si
2020
Ever Night 2
Ning Que
2021
The Rational Life
Qi Xiao
Miss the Dragon
Yuchi Longyan
TBA
The National Southwestern University and Us
Chen Jia Shu
[15]
Cang Lan Jue
Dongfang Qingcang
You Are My Youth
Notes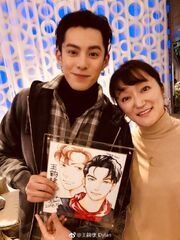 Wang was only three years old when Meteor Garden (2001) first aired. According to him, his mother was so engrossed in the show that she did not have time to cook dinner for the family.[16]
He performed "For You," the theme song of Meteor Garden (2018), with his F4 costars. His vocals were used on four other songs on the soundtrack, including two solos "Fei Tong Xiao Ke" and "Xiang Dou Bu Yong Xiang."
Wang felt especially close to his Meteor Garden character, writing a long letter to Si on social media saying "I understand you" and that the two could be friends in real life.[17][18]
In August 2018, Yoko Kamio drew a picture of Wang as Dao Ming Si and shared it on her Instagram.[19]
When Kamio visited China in November 2018, she gifted several illustrations to the Meteor Garden cast. His illustration featured Tsukasa in the background and Wang's portrayal of the character in the forefront.[20]
He was born the same day that chapter one hundred and fifty-one of Boys Over Flowers was published.
He has been nicknamed "Didi" (棣棣; or DD) by fans.
Wang is a huge fan of basketball, having played it since childhood. His favorite player is LeBron James. In September 2019, Wang's team won in the Super Penguin Celebrity Game.[2][21]
While filming The National Southwestern University and Us, Wang posted a picture of him and costar Yu Haoming, from Meteor Shower, captioning the photo "just realized we're love rivals in a parallel universe."[22]
Wang reunited with Dong Xin in the 2021 drama, Miss the Dragon.
References
External links