Doyoji Mansion (道明寺邸, Dōmyōji-tei) is the Domyoji family residence in Tokyo, Japan. Each family member has lived there for various periods of time. Tsukasa and Tsubaki Domyoji lived there on their own for a long time, before she married and moved away. For a few years, Tsukasa lived there by himself until he left to study in New York.
Description
The Domyoji residence is famed for its size. It is over ten thousand square meters and sits on over five hundred thousand square meters of land. There are atleast one hundred rooms,[1] including a spa and hair salon.[2] Tsukushi Makino was once lost in the maze-like house.[3] A feature of the grounds is a private airstrip, where the Domyojis' park their jet plane.[4] Another interesting feature is an indoor pool, though it is rarely used.[5]
Tsukasa Domyoji and his older sister Tsubaki lived in the mansion by themselves for most of their childhoods. He was left there alone when Tsubaki married and moved away.[6] His friends, Sojiro Nishikado, Akira Mimasaka, and Rui Hanazawa frequently visited him. They were usually let in by the servants without telling Tsukasa.[7] In his third year, Tsukushi worked at the mansion as a maid under Tama's tutelage. She was also appointed his "personal maid."[8] Tsukushi became beloved among the other servants.[9]
Other residences
Aside from their home in Japan, the Domyoji family owns fifteen villas located around the world,[1] including one in Karuizawa.[10]
Southern Island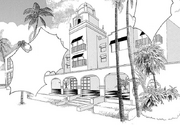 The Domyoji family owns a resort, or vacation home, on a private island somewhere south of Japan. Out of his friends, Tsukasa's family is the only to own an island. The home is large, containing several guest and miscellaneous rooms. It is only a short distance from the beach.[11] The F4 typically vacation there once a year, usually bringing female guests. During his final year of high school, Tsukasa brought Tsukushi Makino there along with his other friends.[4]
Canada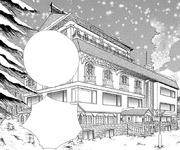 Outside Vancouver, Canada, the Domyojis' have a secluded mansion. It is about a three hour drive from it to the nearest airport.[12] The mansion is in a deep part of the woods, being several miles from any other buildings besides a small ranger's cabin.[13] Like the Domyojis' other homes, it is sprawling and contains some fifty rooms.[12] Tsukasa and his friends, including Shizuka Todo, use to visit the house once a year when they were younger. In high school, they vacationed here with Tsukushi and Yuki Matsuoka. Shizuka made a surprise appearance as well, stopping by on the off-chance that they were there.[14]
New York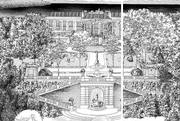 Located not far from Manhattan,[15] the Domyojis' New York home has a distinct Grecian influence and was described as "like a castle" by Tsukushi. Its grounds contain intricate fountains and marble sculptures are seen both inside and outside. A large rose garden appears to be a favorite spot of Kaede Domyoji's.[16] The mansion is mostly occupied by Kaede and presumably her husband. In an effort to separate Tsukasa from Tsukushi, Kaede had him brought to the mansion in New York. Tsukushi went there to meet him but was rebuffed.[17] Though he returned to Tsukushi in Japan, Tsukasa decided to go back to New York when his father collapsed.[18]
Inhabitants
Behind the scenes
Notes
Portrayals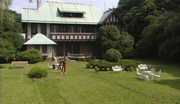 The exterior and backyard of Tsukasa's house is briefly shown at the end of the film, Hana Yori Dango (1995). The house is not in the modern style of the manga nor is it particularly lavish, instead it appears to be a normal paneled house. In a short scene, Sojiro and Akira are talking to Tsukasa in his backyard about his fight with Rui over Tsukushi. Tsukasa, meanwhile, plays catch with his dog.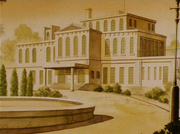 In the 1996 anime, the house has a similar appearance and architecture presented in the original version though it has some slight differences. It first appears in the episode "No Brand Girl!" when Tsukasa kidnaps Tsukushi and has his servants give her a makeover in his home salon. The house makes intermittent appearances thereafter. Two of the Domyojis' vacation homes, namely the island resort and the mansion in Canada, are also featured in episodes of the anime.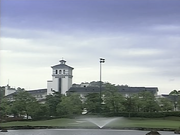 Si's (Tsukasa) home is filmed at two different locations in Meteor Garden (2001). The interior were filmed at a private home that has since been demolished, while the exterior was filmed at a hotel. Si's home makes frequent appearances throughout the drama.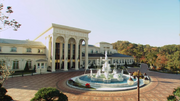 In Boys Over Flowers (2009), the house is shown to be both sprawling and lavish. It has seemingly endless hallways with countless rooms. Unlike in the manga, the house's style appears to be more Grecian inspired.
Tsukasa's house appears a handful of times in the musical, Hana Yori Dango (2019). The whole stage is used to represent the house, changing the background and adding furniture to make it look rich.
Appearances
Boys Over Flowers
Volume 2
Volume 17
Volume 26
Volume 30
Volume 31
Volume 32
Volume 33
Volume 34
Volume 35
Volume 36
Jewelry Box
Other
Boys Over Flowers Season 2
Volume 2
Volume 3
Volume 4
Volume 5
Volume 6
Volume 7
Volume 8
Volume 9
Volume 10
Volume 11
Volume 12
Volume 13
Volume 14
Meteor Garden (2018)
1
2
3
4
5
6
7
8
9
10
11
12
13
14
15
16
17
18
19
20
21
22
23
24
25
26
27
28
29
30
31
32
33
34
35
36
37
38
39
40
41
42
43
44
45
46
47
48
49
References
See also