Kazuya: "Tsukushi? It is you, Tsukushi! Remember me? We were in the same class in grade school."
Tsukushi: "Ka...Kazuya?! W-what're you doing her?"
Kazuya: "I transferred here. We were farmers, remember? Well, we sold our land and moved to Setagaya. I guess you'd call us "nouveau riche," which is kinda embarrassing."
Chapter 8 (第8話, Chapter 8) of Boys Over Flowers was first published on July 5, 1992 in the fifteenth issue of Margaret. It was preceded by chapter seven and followed by chapter nine. This chapter introduces Tsukushi Makino's childhood friend, Kazuya Aoike.
Rui Hanazawa happily greets Shizuka Todo. Seeing them together, Tsukushi decides to go back to her own world. The next day, Tsukushi reunites with Kazuya who has transferred to Eitoku Academy, making Tsukasa Domyoji jealous.
Plot
Tsukushi Makino looks on as Shizuka Todo greets Rui Hanazawa with a kiss. Shizuka receives the other F4 members the same way, leading Tsukushi to call it a "cheap kiss". After learning more details about Shizuka's life, Tsukushi sees the drastic difference between her life and Shizuka's. Tsukushi resolves to avoid the F4 and return to her old life. At the same time, the F4 and Shizuka catch up at a restaurant. Rui becomes moody and eventually voices his problem. She placates by calling him "sweet" for worrying.
At school, Tsukasa Domyoji tries to rile Tsukushi up, but she ignores him. Tsukushi is then greeted by an old friend Kazuya Aoike, whom she has not seen since grade school. Kazuya's family recently came into a large amount of money, calling themselves "nouveau riche". At first, Tsukushi worries that his connection to her might cause him trouble with the F4. She pushes the thought aside and the two reminisce throughout the day. Tsukasa becomes instantly jealous upon seeing them together.
Kazuya finds a red slip in his locker, which he mistakes as a welcoming gesture from the Eitoku students. The other students immediately begin bullying him with similar techniques that they use on Tsukushi. Kazuya tries to get help from two teachers, but they avoid him, not wanting to get involved. Tsukushi attempts to protect him, but becomes so enraged that she leaves in order to confront Tsukasa. Tsukushi yells at him, "how can you do that to someone so good?", to which he replies "you just don't get it!"
Character appearances
Notes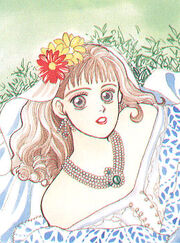 A young Kazuya is wearing a t-shirt of the Japanese pop duo, Pink Lady. Kamio also states in volume two that she is a fan of theirs.[2]
The chapter was first published with a two-page color illustration in Margaret No.15.[3] It features Tsukushi wearing a wedding dress surrounded by the F4 sleeping. The picture was included in the art book and volume one of the complete edition.
Adaptations
References
See also