"Why do I have to spend my winter break with these Eitoku morons? And as if things weren't bad enough, Tsukasa's coming too! I'm cursed!"
Chapter 78 (第78話, Chapter 78) of Boys Over Flowers by Yoko Kamio was published on July 20, 1995 in the manga magazine, Margaret.[1] It was the first chapter collected in volume thirteen of the series. The chapter was followed by seventy-ninth entry on August 5.
Though still annoyed at first, Tsukushi Makino and Tsukasa Domyoji manage to make up during their time in Canada. Yuriko Asai becomes jealous. That night, she lies to Tsukushi by telling her Yuki Matsuoka went out into the snowstorm.
Plot
On the plane to Canada, Tsukushi Makino is annoyed to see Yuriko Asai and her friends. Yuki Matsuoka, on the other hand, is fascinated by them, saying "They're so classy and mature!" Tsukushi then asks Sojiro Nishikado why he invited "these dolts" on the trip. He replies "I thought you invited them!" Sakurako Sanjo tells Tsukushi "Oh, don't be that way," before slyly mentioning that she knows about her borrowing one million from Tsukasa Domyoji. Tsukushi is surprised and thinks "This just gets worse."
After landing in Vancouver, they now have a three-hour drive to Tsukasa's house. Sojiro tells Yuriko and her friends to "get lost." Yuriko lies by saying Tsukushi invited them. They hit her with their suitcases before she can claim otherwise. They arrive at Tsukasa's and find him in front of the fireplace. Tsukushi and him are still at odds with each other. Later, she and Yuki settle into their room. Tsukushi is comforted by Yuki's easy-going personality, reminding herself that she should have fun.
The next day, Tsukushi has a hard time snowboarding. When she sees Tsukasa easily doing it, she says "Wow that was cool." Tsukasa whispers "I wish you were always this sweet." He then begins helping her learn. Yuriko watches with an angry glare. That night, Tsukushi cannot find Yuki and asks Rui Hanazawa if he has seen her. Yuriko claims "She went back to the slopes." Tsukushi is suspicious because of the blizzard, but darts outside anyway. At the same time, Yuki is talking to Sojiro after having a bath.
Character appearances
Notes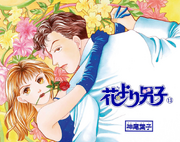 A two page color illustration originally served as the chapter's opening when it was published in Margaret.[2] It was subsequently used as the cover of volume twelve and was also included in the kanzenban edition.
Adaptations
References
See also