Tsukasa: "What's wrong with me?! Huh?! Answer me! Where are you ever gonna find a guy as perfect as me?!"
Tsukushi: "I hate your stupidity! I hate your hairstyle! I hate the way you strut around in your stupid clothes! I hate your smugness! I hate those snake eyes of yours! I hate everything about you!"
— Tsukushi's reasons for disliking Tsukasa
Chapter 7 (第7話, Chapter 7) of Boys Over Flowers was first released in June 1992 in the manga magazine, Margaret. The chapter was followed by the eighth installment in July 1992. It marks the first official appearance of Shizuka Todo.
News of the return of Rui Hanazawa's first love, Shizuka Todo, reaches Tsukushi Makino. She later receives a shock when Rui mockingly kisses her on the cheek. Meanwhile, Tsukasa Domyoji tries his best to impress Tsukushi.
Plot
After he stops Yuriko Asai and her friends from harassing Tsukushi Makino, Tsukasa Domyoji offers his hand to her. Tsukushi almost accepts, but comes to her senses, realizing that he put her "in this situation" in th first place. Tsukusa asks her "what's wrong with me?", prompting Tsukushi to fire off several reasons why she dislikes him. She punches him and quickly hurries away, before overhearing Akira Mimasaka's and Sojiro Nishikado's conversation about Shizuka Todo.
She joins Sojiro and Akira, asking questions about Shizuka. They tell her about their childhood, revealing Rui was severely introverted. Shizuka was the only one able to bring him out of his shell. Tsukushi feels down and wanders around town. She happens upon Rui kissing a poster with Shizuka's face on it. He appears irritated by her presence, causing her to babble. Rui perceives Tsukushi's feelings for him and kisses her on the cheek. Rui walks away and Tsukushi realizes he was "toying with [her]."
The next day, Yuriko and her friends are talking about Shizuka and point out how different Tsukushi is from her. Annoyed, Tsukushi leaves the room. She passes by Tsukasa and barely recognizes him since he has straightened his hair to look more appealing to her. However, his hair begins to curl back to his natural style. Tsukushi laughs. Akira and Sojiro then run up to announce Shizuka's arrival. Rui greets her first. Shizuka jumps into his arms and declares "I've missed you so much!"
Character appearances
Notes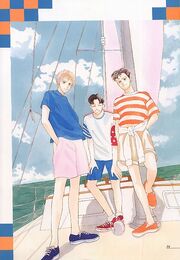 The chapter was originally accompanied with a color illustration of Tsukasa, Sojiro, and Rui on a boat. It was later included in the art book and the first volume of complete edition.[2]
In this chapter, Sojiro wears a Chicago Bulls sweatshirt. The team was extremely popular at the time of this publication, having just won the 1991 and 1992 NBA Finals.
Adaptations
References
See also