"In my heart, this is no longer just a matter of money. I can't let down the people who've spent so much effort on me. If I'm an embarrassment, it will only reflect on me. I have to show them that this "pauper" has pride and will-power."
Chapter 67 (第67話, Chapter 67) of Boys Over Flowers written and illustrated by Yoko Kamio was first published in the early February 1995 issue of Margaret.[1] The chapter was subsequently collected in the series' eleventh volume. It was followed by chapter sixty-eight, also in February.
Tsukushi Makino receives a pep talk from Tsukasa Domyoji, giving her the courage to continue. She starts to show progress in her training. Seinosuke Amakusa later offers to help her with her debt but she declines.
Plot
Tsukasa Domyoji comforts a crying Tsukushi Makino. She says to herself "Don't speak to me so gently. Don't touch me so gently." He asks "Should I sleep with you tonight?," inviting her to stay in his room. Tsukasa promises "I'm not gonna do anything." Despite feeling apprehensive, Tsukushi does not want to be alone at the moment and knows she will want to run again if she is not near someone. She asks if he going to do anything to her. He responds "Who knows? I'm a guy after all," before adding "I'm just kidding."
In Tsukasa's room, the two play a card game. Tsukasa becomes tired of old maid, so Tsukushi suggests seven bridge. He refuses since he does not know how to play it. Tsukushi teases him, which leads Tsukasa to threaten to tell the school about her crying. The two start bickering and before they realize it he is on top of her. She closes her eyes out of fear. He quickly moves and suggests another game, though he comments that Tsukushi "looked pretty cute when [he] saw [her] up close."
The next morning, Tsubaki Domyoji finds the two sleeping peacefully together. From then on, Tsukushi begins making amazing progress in her training. Tsubaki becomes hopeful about her chances. Sometime later, Tsukushi runs into Seinosuke Amakusa who apologizes for the other day. He offers to help her repay her loan. Tsukushi politely declines, saying "This is no longer just a matter of money." He wishes her "good luck." The next day, Tsukushi and the other Teen of Japan contestants prepare to go on stage.
Character appearances
Notes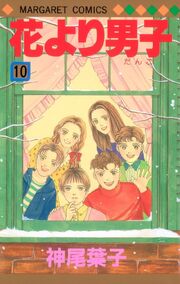 A one-page color illustration accompanied the chapter in its original release.[2] The image features younger versions of the F4, Shizuka, and Tsubaki, which was later used as the cover of volume ten. It was republished in the art book and volume six of the complete edition.
This chapter takes place on December 23 and 24.
Adaptations
References
See also