"I still remember my first great disappointment. It was when I realized that I could never become a real fairytale princess. But that was also when I decided to become someone that only I could become."
Chapter 66 (第66話, Chapter 66) is the first chapter in volume eleven of Yoko Kamio's Boys Over Flowers. It was published in Margaret No.3-4 on January 5, 1995.[1] It was the first of the new year. The chapter was followed by the sixty-seventh installment in February 1995.
Tsukushi Makino begins training for the Teen of Japan contest. She becomes discouraged after meeting Ayano Kurimaki, Seinosuke Amakusa's childhood friend. Tsukasa Domyoji catches Tsukushi attempting to flee his house.
Plot
Tsukushi Makino has a rocky start to her training for Teen of Japan. She makes little progress in tea ceremony or English, frustrating her instructors. Meanwhile, Tsukasa Domyoji asks Tsubaki about Tsukushi's progress, to which she replies "She's doing her best." She then informs him that Tsukushi will be staying there for the time being and warns him not to "sneak into her room." Tsubaki expresses some concerns about Tsukushi's chances of winning. Tsukasa yells at her to "show some faith."
The next day, Yuriko Asai and her friends badmouth Tsukushi. She acts politely towards them. Sakurako Sanjo then approaches her and tells her about a contestant who is predicted to win. That afternoon, Tsukushi runs into Seinosuke Amakusa at the park. He becomes upset, when she tells him about borrowing money from Tsukasa. Seinosuke then advises her not to enter the contest since his childhood friend will win. The girl, Ayano Kurimaki, coincidentally walks up at that moment and introduces herself.
After meeting Ayano, Tsukushi feels even more discouraged. She recalls telling her parents she wanted to be a princess and wonders why "No one ever said 'You can be anything, if you try.'" Tsukushi silently packs her things and attempts to leave Tsukasa's house. He catches her and calls her a coward. Upset, Tsukushi says "What do you know?!" and attempts to slap him. Tsukasa blocks her and responds "That's the Tsukushi Makino I know." He then tells her "Just be yourself," leading Tsukushi to cry.
Character appearances
Notes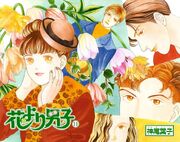 Chapter sixty-six was first published in Margaret with a two-page illustration of Tsukushi and the F4.[2] It was republished in the art book and volume six of the complete edition.
The opening page of Tsukushi dressed in Grecian robes was also included in the art book released in 1995.
Thai actress Ployshompoo Supasap was born the same day that this chapter was published.
Adaptations
References
See also