The fifty-fifth chapter (第55話, fifty-fifth chapter) of Yoko Kamio's series Boys Over Flowers was first published in Margaret No.16 on July 20, 1994.[1] It was followed by chapter fifty-six on August 5. The chapter was collected into the series' ninth volume.
Tsukushi Makino is upset when Tsukasa Domyoji does not tell her about moving to New York. He later shows up at her new job to properly say goodbye. However, he ends up arguing with her new friend and leaves in a huff.
Plot
After learning about Tsukasa Domyoji leaving for New York, Tsukushi Makino has rushed over to talk to him. In a state of shock, she asks if it is true about him leaving. He confirms it and says his departure is set for the next day. Tsukushi asks him why he did not tell him, to which he answers "Why do I have to let you know?" He then looks to Rui Hanazawa saying "Aren't you glad to get rid of me?," before telling Tsukushi he might change his mind if she begged. She then suddenly slaps him .
Tsukushi bursts into tears and begins yelling at Tsukasa to go to America, before claiming that "it [will] be a relief" for him to leave. She then hands coupons from her job to Rui Hanazawa, Sojiro Nishikado, and Akira Mimasaka, but refuses to give Tsukasa one. She declares "Goodbye," before running off and crying again. At work, Tsukushi is distracted and makes several mistakes. Her manager nearly fires her until "Toyama no Kinsan" shows up again and promises to help her out.
A customer orders two hundred burgers, fries, and colas, all to be made in fifteen minutes. Outraged by the unreasonable request, Kinsan goes to confront the customer who turns out to be Tsukasa. He barely responds, before turning his attention to Tsukushi. Tsukasa says a few unintentionally rude things that irritate Kinsan. It leads to full-on argument and almost a physical fight. Tsukushi stops them and asks Tsukasa to leave him alone. Irritated, Tsukasa says "I'm never coming back" as he walks away.
Character appearances
Notes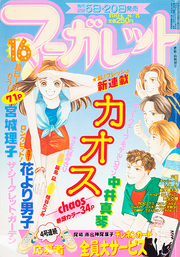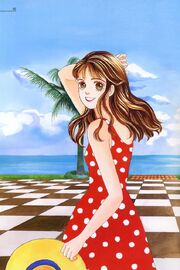 The chapter was originally published with a one-page color illustration of Tsukushi.[2] It was also included in the art book and volume five of the complete edition.
Kamio illustrated the cover of Margaret that this chapter was published in.
Tsukushi calls Seinosuke "Kinsan" after Toyama no Kinsan. He thinks of the twin centenarians Kinsan and Ginsan instead.
Adaptations
References
See also