Chapter 52 (第52話, Chapter 52) of Boys Over Flowers was released in Margaret No.13 on June 5, 1994[1] It is the first in the "Kinsan Arc," also marking the debut of Seinosuke Amakusa. The chapter was later republished in the series' ninth volume.
Tsukasa Domyoji decides to stop fighting with Rui Hanazawa over Tsukushi Makino. Meanwhile, her father loses his job, forcing the family to move. Feeling pressure, Tsukushi looks for a job and finds herself in a bad situation.
Plot
The morning after, Sojiro Nishikado finds Tsukasa Domyoji out on the balcony. Tsukasa begins telling a Sojiro a story of when they were children. Tsukasa wanted Rui Hanazawa's teddy bear. When Rui would not give it to him, Tsukasa accidentally tore off its head. He blamed Rui for it, instead of apologizing. The next day, Rui was not mad at Tsukasa. Present-day, Tsukasa decides to stop fighting over Tsukushi Makino, saying "We can't tear her apart the same way."
Tsukushi arrives at home, expecting another lecture. Her mother instead informs her that the family has to move out since her father lost his job. Tsukushi's parents burst into tears. They eventually start loading their things into a moving truck. At the new apartment, the family is disappointed by its state, calling it a "dump." Tsukushi's family then begins encouraging her to marry rich in order to "save [them] all from this." She does not have the heart to tell them that neither Rui nor Tsukasa want her.
The next day at school, Tsukasa surprises Tsukushi by throwing a bag at her. The two nearly have a normal conversation, before Tsukushi runs away after picturing money on his face. Tsukushi then heads off to go job searching. A man approaches her with a lucrative job, wanting to take photos of her school uniform. She finds it "sketchy" at first, but finds the money too tempting. He escorts her to a make-shift studio and proceeds to lock the door. The men then grab Tsukushi, just as the ramen delivery boy arrives.
Character appearances
Notes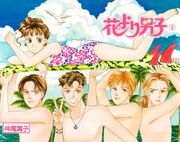 Chapter fifty-two was first released with a two-page color opening of Tsukushi on a surfboard being held aloft by the F4.[2] It was later included in volume five of the complete edition.
Gorya's (Tsukushi) father loses his job in episode eight of F4 Thailand and she begins searching for part-time jobs. However, the circumstances are changed from the manga.
Adaptations
References
See also