"So that's it! I thought there was somethin' unnatural about you two! It's because you two are draggin' your feet that a dope like Tsukasa thinks he can get between you! You can use one of our rooms tonight!"
Chapter 50 (第50話, Chapter 50) is an installment of Yoko Kamio's series, Boys Over Flowers. The chapter was originally published in Margaret on May 5, 1994. It was followed by chapter fifty-one also published in May 1994.[1] The chapter was later included in volume eight of the series.
A dazed Tsukasa Domyoji is easily robbed by three men. He comes out of his stupor, when one of them says "Marui." Meanwhile, Tsubaki Domyoji and the others lock Tsukushi Makino and Rui Hanazawa in a guest room.
Plot
Three shady-looking characters are watching Tsukasa Domyoji. They are debating whether to rob him or not, eventually deciding in favor of it. One approaches Tsukasa and begins talking. He is completely "spaced-out" and just stands there, while they proceed to make fun of his hair. They take his wallet and begin going through his credit cards. One is from the Marui department store, which they repeat several times. Tsukasa ears prick up at the name.
At Tsukasa's house, Tsubaki Domyoji hosts a feast for the basketball match participants. Drunk, Tsubaki reminisces about the F4 as children, noting "and now you're old enough to fight over girls." Tsukushi Makino remembers Rui Hanazawa's comment from earlier and she feels a "zing" in her heart. Sojiro Nishikado mentions Tsukasa Domyoji, which causes Tsukushi's heart to skip a beat also. Meanwhile, Tsukasa becomes angry at the three guys for saying "Rui." He then proceeds to beat them up.
Akira Mimasaka and Sojiro asks Tsukushi and Rui "how far have [they] gone." When Rui answers "Omotesando," they realize they have not had sex. Sojiro and Akira are shocked by the revelation, questioning whether Rui is "a healthy young man or not." Tsubaki then decides to lock the two in a guest room, which Sojiro and Akira go along with. Meanwhile, Tsukasa finishes beating up the three guys. He now feels "much better" and happily walks home.
Character appearances
Notes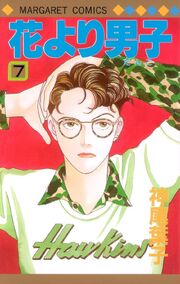 Adaptations
References
See also