"We walked together in Aoyama that snowy winter morning. He waited four hours for me in the snow. He had snow on his head. From that day on, I began to notice his feelings for me. But I pretended not to see. Now I know just how much he felt for me. And just how much I hurt him."
Chapter 40 (第40話, Chapter 40) is an installment of the manga Boys Over Flowers by Yoko Kamio. It was published in Margaret No.24 in November 1993.[1] The chapter was followed by forty-first entry on December 5 and was later collected in the series' seventh volume.
Tsukushi Makino and Rui Hanazawa go on their first date together. She finds herself constantly thinking about Tsukasa Domyoji. Whenever another mishap occurs, her thoughts dwell on how Tsukasa would have handled it.
Plot
Tsukushi Makino finishes getting ready for her date with Rui Hanazawa. Thinking about Tsukasa Domyoji, she resolves to do as he said "and forget anything happened" between the two of them. Her father notices her dressed up and asks if she has a date. She answers yes and her mother begins pelting her with questions about who. Annoyed, she eventually shouts "It's Rui Hanazawa! Any objections?!" Her parents both reply "nope," and then celebrate her prospects.
Rui meets her at a designated spot. Looking at Rui, Tsukushi starts comparing his looks to Tsukasa's and has to stop herself. The two are walking around when they happen upon the place where Shizuka Todo's posters were. Tsukushi begins talking about Shizuka and Rui politely asks her not to. A few minutes later, Rui asks her to call him just "Rui." Tsukushi says it several times as practice, when Shizuka saying it pops into her head. Distracted, she then runs into a glass door. Rui walks on, having not noticed.
Tsukushi is thinking about Tsukasa again, when she and Rui sit down at fast-food restaurant. She goes to the restroom to gather herself, chanting "Forget everything!" several times. Sitting on the toilet, the door suddenly opens and it is Rui, who then says "You're in here? Lock the door will you?!" Tsukushi screams and continues crying on the way out. He jokes with her, causing her to yell something embarrassing aloud. Rui laughs and says "I like you more all the time."
Character appearances
Notes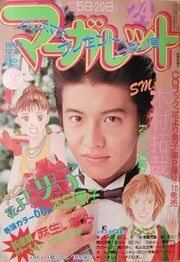 It was first published in Margaret No.24 on November 20, 1993.[1] Takuya Kimura, the voice of Rui, was featured on the cover to advertise the release of the second audio drama.
The chapter was released with a one-page color opening of Tsukushi, Tsukasa, and Rui.[2] It was used on the back cover of volume seven, and was republished in the art book and volume four of the complete edition.
Rui kissing Shizuka's poster in chapter seven is referenced.
Adaptations
References
See also