Chapter 38 (第38話, Chapter 38) of the manga, Boys Over Flowers by Yoko Kamio, was published in the late October 1993 issue of Margaret.[1] The chapter was followed by thirty-ninth entry of the series. It was the first chapter included in the seventh volume of Boys Over Flowers.
Tsukasa Domyoji's heart is broken when he finds Tsukushi Makino with Rui Hanazawa. The next morning, Tsukasa leaves by himself on his plane. Tsukushi feels horrible for hurting him and realizes she will never see his smile again.
Plot
On the beach, Rui Hanazawa kisses and then holds Tsukushi Makino. He remarks about her being so thin that he feels she would break "if [he] held [her] any tighter." She responds "I don't care what happens to me" and tightens her hold on him. Still crying, Tsukushi thinks to herself "Even if this is the end of the world, all I can see is Rui Hanazawa here before me." Rui then looks up and sees Tsukasa Domyoji watching them with a stricken look on his face.
Shocked, Tsukasa finally says "So that's how it is." He then punches Rui and attempts to leave, but Tsukushi stops him saying "Please. Just listen to me." Tsukasa tells her that she has broken his heart. Crying again, Tsukushi apologizes and reaches out to him. He yells "Don't touch me!," before saying "I take back everything I ever did or said. Don't ever talk to me again." Tsukushi collapses as he walks away, thinking "I never meant to hurt him."
The next morning, Akira Mimasaka and Sojiro Nishikado are unable to find Tsukasa. He has apparently left on his jet. Kazuya Aoike tells them they can take his boat. Once on the boat, Akira and Sojiro loudly complain, realizing it will take two days to reach Tokyo. Rui notices Tsukushi shivering and holds her hand, saying "I'm here." She starts crying, noting the difference in his and Tsukasa's hands but acknowledges "This is the hand that I chose." Tsukushi then thinks "I'll never see his smile again."
Character appearances
Notes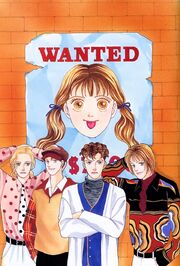 Adaptations
References
See also