Chapter 34 (第34話, Chapter 34) is an installment of the manga series, Boys Over Flowers. The chapter was released in Margaret on August 20, 1993. It was followed by chapter thirty-five the following month.[1]
Tsukushi Makino is confused by the new Rui Hanazawa, who jokingly flirts with her. Later, Tsukasa Domyoji drags her on a trip to his family's private island. There he surprises her when he reveals that they are sharing a room.
Plot
Rui Hanazawa says "You think I can't satisfy you after Tsukasa?" to Tsukushi Makino. She stares back in shock as snippets of how he used to be flash through her mind. He then bursts out laughing and tells her "It's just a joke!" Despite this, Rui continues flirting with her. Tsukushi fake laughs and gets up to leave. Rui says "You just get cuter all the time" when she reaches the door. She attempts to nonchalantly thank him. However, her legs start to wobble as soon as she gets inside.
Sakurako Sanjo pops out, startling Tsukushi. She thanks her for standing up for her the other day, saying "I can't tell you how much it meant." Sakurako then informs her that "[she is] not giving up on Tsukasa." After school, Tsukasa Domyoji drags Tsukushi into a ritzy store, where he orders the saleswomen to find "something sporty." Dressed in Chanel, Tsukasa giggles at her though he calls her "cute." He then reveals that they are going to his family's villa. Tsukushi starts to get irritated by his "pushy" manner.
Extremely nervous, Tsukushi has to be dragged onto the plane by Tsukasa. She holds him by his neck during takeoff. Once in the air, Sojiro Nishikado introduces her to his and Rui's dates, Hiroko and Noriko, whom he picked up at a club. Akira Mimasaka also introduces his older, married girlfriend. She notices Rui sitting a few seats ahead, but does not say anything. At the villa, Tsukasa shows her to her room. While she is admiring the view, he hugs her from behind and says "This is our room."
Character appearances
Notes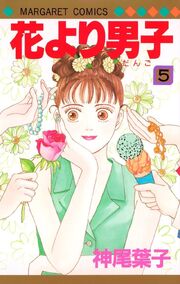 The original 1993 release of the chapter included a color illustration.[2] It was used for the cover of volume five and later republished in the third volume of the complete edition.
Tsukasa takes Tsukushi to the Chanel store, but the sign actually says "Channel." The brand was also referred to as such in chapter eleven.
Adaptations
References
See also