Chapter 31 (第31話, Chapter 31) is an entry of Boys Over Flowers by Yoko Kamio. It was published in the manga magazine, Margaret, on July 5, 1993.[1] The chapter was the first included in the series' sixth volume. It was followed by chapter thirty-two. The chapter also marks the return of Rui Hanazawa.
After saving Tsukushi Makino, Tsukasa Domyoji takes her to his house to take care of her. There he kisses her and she reciprocates it. The next day, Tsukasa punishes her attackers until she asks him to stop.
Plot
Tsukasa Domyoji decides to take the beaten up Tsukushi Makino to his house. She initially protests when he picks her up, but stops struggling when he says "I've finally got you. How can I put you down?" Tsukushi goes silent. At his house, he orders his maids to prepare a bath. One of the maids escorts her to the bathroom and then tries to help her bathe. Tsukushi refuses and pushes her out of the room. While in the bath, she wonders what he meant by his words earlier.
Afterwards, a maid takes her to Tsukasa's room and he tells her that he has informed her parents. He then motions for her to come towards her and begins treating her wounds. Tsukasa apologizes again, saying "It's my fault this happened to you." He brings up Thomas and Tsukushi accuses him of being "jealous." He confirms it, before admitting "I love you." Tsukasa then kisses her briefly. Before she leaves the room, he says "I'm serious. Don't blow this off."
The next morning, Tsukushi wakes up in Tsukasa's guest room. The maids give her breakfast and a new uniform, before informing her that Tsukasa has already left for school for "revenge." Tsukushi rushes to school, where she sees several boys hanging from the roof by their ankles. On the roof, Tsukasa encourages her to "cut the rope of the guy [she] hate[s] most." Tsukushi feels the punishment is sufficient. A couple seconds later, Rui Hanazawa opens the roof's door and announces "I'm back."
Character appearances
Notes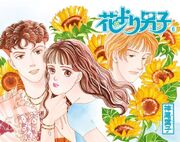 Chapter thirty-one was originally released with a two-page color illustration of Tsukushi, Tsukasa, and Rui.[2] The image was republished in the art book and the complete edition of the series.
Adaptations
References
See also