"A girl Tsukasa will fall in love with? You think there's actually anyone like that in this world? She might appear one day, right? Of course, she can't be just any old girl. Yeah, I guess. But just wait, you can't really tell what life will bring. She's definitely out there somewhere I tell you."
Chapter 238 (第238話, Chapter 238) of Boys Over Flowers by Yoko Kamio was first published on July 5, 2003 in the manga magazine, Margaret.[1] It was followed by the two hundred and thirty-ninth chapter later the same month. The chapter was also included volume thirty-six of the series.
Plot
Character appearances
Notes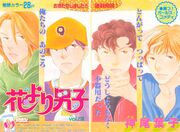 The chapter was originally published with a two-page color illustration of the F4 in Margaret.[2] It has also been published in Hana Yori Dango FF and volume twenty of the complete edition.
The color image of the F4 was later used in the musical, Hana Yori Dango (2019) to introduce the F4 at the beginning. Yoko Kamio altered Sojiro a bit, removing his hat, changing his eyes, and giving him a slight smile.[3] The altered version is currently available to download at Kamio's website.[4]
References
See also
This article or section is a stub. You can help Boys Over Flowers Wiki by expanding it.