Chapter 234 (第234話, Chapter 234) of Yoko Kamio's Boys Over Flowers was released in Margaret on April 5, 2003 following a two week break.[1] It was followed by chapter two hundred and thirty-five later that same month. The chapter was also collected into volume thirty-five of the series.
Plot
Character appearances
Notes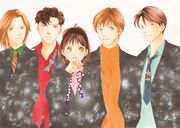 Adaptations
References
See also
This article or section is a stub. You can help Boys Over Flowers Wiki by expanding it.