Chapter 221 (第221話, Chapter 221) was the final chapter of Yoko Kamio's Boys Over Flowers to be included in the thirty-third volume. It was published in Margaret No.16 on July 20, 2002.[1] The chapter was followed by the two hundredth and twenty-second entry on August 5.
Plot
Character appearances
Notes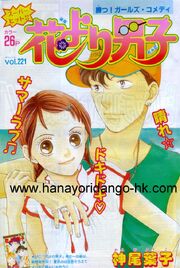 The chapter was released in Margaret with a one page color illustration in 2002.[2] It was also included in Hana Yori Dango FF and volume nineteen of the complete edition of the manga.
Several references to chapter one are made, such as mentioning Makiko and Tsukushi saying "If 'I'm sorry' fixed everything, we wouldn't need the police."
Adaptations
References
See also
This article or section is a stub. You can help Boys Over Flowers Wiki by expanding it.