"In front of the Hanae Mori Building at 1:00. He gave no explanation. What was it all about? He wouldn't be waiting, would he?"
Chapter 21 (第21話, Chapter 21) of Boys Over Flowers, a manga by Yoko Kamio, was published in Margaret No.5 in February 1993.[1] The chapter was preceded by chapter twenty in January and followed by twenty-two later in February.
Tsukasa Domyoji asks Tsukushi Makino on a date, but she does not hear him. He later tells her a time and place. Tsukushi shows up four hours late. Searching for a teahouse, the two end up stuck in an elevator.
Plot
A plane causes Tsukushi Makino not to hear Tsukasa Domyoji when he says "Let me take you out." He refuses to repeat himself, only promising to tell her "where and when" later. Confused, Tsukushi decides to dismiss it. The next day, Akira Mimasaka and Sojiro Nishikado notice Tsukasa reading a book on dating. The two are ecstatic that he is finally interested in "something other than bullying kids in school." They give him advice, though he is obviously "going to do it his way."
During lunch, Tsukushi is wondering whether Rui Hanazawa has met Shizuka Todo yet. Her classmates are badmouthing her though she chooses to ignore it. Tsukasa then startles her and names a time and place, before walking out. Kazuya Aoike says "It sounds like he was asking you for a date!" though she does not believe that. The following Sunday, Tsukushi is out shopping with her mother. She wonders if Tsukasa is waiting for her, before thinking "Why would I go anyway?!"
Two hours later, it starts to snow and Tsukushi rushes to see if he is waiting. Tsukasa yells at her for being so late. She asks "Why didn't you just go home?!", to which he says "I thought maybe you were in a an accident!" Tsukushi then offers to treat him to tea. Tsukasa first chooses an expensive-looking place so she steers him to somewhere else. They board the elevator which suddenly stops. Realizing they are alone, Tsukushi becomes uncomfortable. Tsukasa's face becomes red and he starts to approach her.
Character appearances
Notes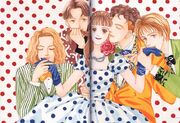 The original release included a color illustration of Tsukushi in a polka-dot dress surrounded by the F4.[2] It was republished in the art book and volume two of the complete edition.
The Hanae Mori Building, the meeting spot for Tsukushi and Tsukasa's date, was built in 1977. It was demolished and rebuilt in 2011.[3] In its heyday, the building was a bustling shopping center.[4]
In Hana Yori Dango (2005), the meeting spot is notably changed to Yebisu Garden Place. The place became a reoccurring theme in the series, also appearing in all three sequels.
Adaptations
References
See also