Chapter 197 (第197話, Chapter 197) of Boys Over Flowers by Yoko Kamio was first released in Margaret No.9 on April 5, 2001.[1] It was followed by chapter one hundred and ninety-eight of the series later the same month. The chapter was subsequently collected in volume thirty of the series.
Plot
Character appearances
Notes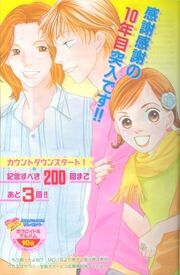 In Margaret No.9 of 2001, the chapter was opened with a full two page color illustration. It depicts Tsukushi and the F4 with a yellow background. It was republished in volume seventeen of the complete edition with a white background.[2]
Adaptations
References
See also
This article or section is a stub. You can help Boys Over Flowers Wiki by expanding it.