Chapter 195 (第195話, Chapter 195) of Yoko Kamio's Boys Over Flowers was included in volume thirty of the series. It was originally published in the manga magazine, Margaret, on March 5, 2001.[1] The chapter was followed by the one hundred and ninety-sixth entry later that same month.
Plot
Character appearances
Notes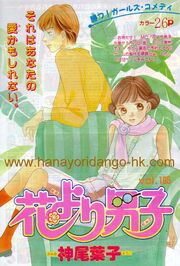 Adaptations
References
See also
This article or section is a stub. You can help Boys Over Flowers Wiki by expanding it.