Chapter 193 (第193話, Chapter 193) is the final chapter collected in volume twenty-nine of Yoko Kamio's manga, Boys Over Flowers. It was originally published on February 5, 2001 in the manga magazine, Margaret.[1] The chapter was followed by the series' one hundred and ninety-fourth installment later the same month.
At the Domyojis', Tsukushi Makino runs into Kaede Domyoji who brings her to see Tsukasa. He coldly tells her to go home. Tsukushi ends up silently leaving. Newly arrived, Rui Hanazawa finds her and offers her comfort.
Plot
Face to face with Kaede Domyoji, Tsukushi Makino wonders whether she will "throw [her] out." Kaede, however, only says "Come with me." They silently walk through the garden and into the house, where Kaede escorts her to a room and closes the door. Tsukushi is in a panic until Tsukasa walks in. He says "What'd you come here for?" She answers "I came for you." Tsukasa looks at her with cold eyes and claims that it was his idea to stay here and tells her to "Go on home." He then leaves to get her a car.
Tsukushi shouts after Tsukasa saying "Look me in the eye will you?!" She then imagines how she had pictured Tsukasa happily going home with her. Walking through the garden, Tsukushi meets Tama again. Putting on a happy face, she tells her that she saw Tsukasa and now she is going sightseeing. Tama is left confused. Seconds later, a familiar young man walks up to Tama. Meanwhile, Tsukasa finds that Tsukushi has left. He yells at his mother "Does this make you happy?" However, Kaede is unfazed.
Standing next to the East River, Tsukushi thinks "What did I come here for?" Rui Hanazawa then appears next to her. He asks about Tsukasa. She puts on her happy face again and reveals that Tsukasa will be saying in New York. Tsukushi asks Rui why he came here. He answers "I was worried about you" and that he "sensed that [she was] somewhere crying." Finally, tears spring from Tsukushi's eyes. Rui holds her as she continues crying. She thinks to herself "I came because I wanted to see him."
Character appearances
Notes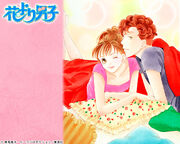 Adaptations
References
See also