"I have to pull myself together, or I might collapse. I have to wind my screws up tight so I can go on. I have to be as strong as my heart is."
Chapter 192 (第192話, Chapter 192) is the first chapter of Boys Over Flowers to be published in 2001. It was released on January 5, 2001 in Margaret No.3-4.[1] The chapter was followed by the one hundred and ninety-third installment of the series in February. It was included in the series' twenty-ninth volume.
Thomas tries to convince Tsukushi Makino that she has no chance of seeing Tsukasa Domyoji. However, she remains determined. Thomas takes her to the Domyojis' home, where Tama demands for Tsukushi to be let in.
Plot
Akira Mimasaka and Sojiro Nishikado speculate about the "reunion" between Tsukushi Makino and Tsukasa Domyoji. Rui Hanazawa guesses that Tsukushi has "fouled up somewhere again." Akira says that Kazuya Aoike's family are okay then asks Sojiro about Yuki Matsuoka's family. Sojiro hands his phone to Rui, who talks to her rather reluctantly. After making sure Yuki's family is okay, the three guys wonder about Tsukushi again. Meanwhile, Thomas and Tsukushi are sitting in Central Park eating fast food.
Tsukushi becomes frustrated with Thomas, who believes it is hopeless to try to see Tsukasa. She grabs his collar and orders him to give her the adress. A man sitting nearby claps, calling her "courageous." He reminds her of her father so she encourages him to have "kiai" ("spirit"). Thomas brings Tsukushi to the Domyojis' home with his friends in tow. They each attempt to convince the guards to let them in until Tsukushi talks to them herself. They also tell her no, but Tama arrives just in time.
Undettered by the guards, Tama exerts her authority over them and they soon let her and Tsukushi inside. Tsukushi turns around and thanks her new friends as they shout encouragements. She also thinks of all her other friends who have helped her along the way. Tama decides to head to the servants' quarters and tells Tsukushi to go to the front door. Unexpectedly, Tsukushi soon happens upon Kaede Domyoji cutting roses. She tells her "You have a lot of nerve coming here." Tsukushi then asks to see Tsukasa.
Character appearances
Notes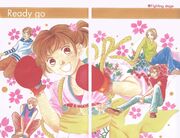 The chapter was originally accompanied by a color illustration in Margaret. The image pictures Tsukushi wearing a pink kimono and boxing gloves with the F4 floating around her.[2] It was reprinted in Hana Yori Dango FF and volume sixteen of the complete edition.
Adaptations
References
See also