The one hundred and ninetieth chapter (第190話, one hundred and ninetieth chapter) of Boys Over Flowers by Yoko Kamio was released on November 20, 2000 in the manga magazine, Margaret.[1] The chapter was collected in volume twenty-nine of the series. It was followed by chapter one hundred and ninety-one the next month on December 5.
When Tsukasa Domyoji suddenly disappears, his friends speculate that his mother had something to do with it. Though shocked, Tsukushi Makino quickly gathers her strength and makes up her mind to go to New York.
Plot
Tsukushi Makino waits for Tsukasa Domyoji to eat lunch, but he does not show up. She then starts rushing to class. Sojiro Nishikado and Akira Mimasaka, however, stop her and bring her to the emergency exit where Rui Hanazawa is waiting. They tell her about her being on television and begin speculating on what Tsukasa's mother has done with him. Rui asks if there was "anything strange" yesterday. They are interrupted by Sakurako Sanjo, who reveals that Tsukasa has given notice about leaving school.
Tsukushi feels as if the ice has broken below her, sending her into icy water. Sakurako is distressed by her silence. Akira pulls her away from Tsukushi. Sojiro offers to call Tsukasa's sister, but Tsukushi stops him. He asks "Then what are you planning to do?" Tsukushi answers "My lunch" and begins eating. After finishing both lunch boxes, Tsukushi stands up and tells the others about the plans she and Tsukasa had made the previous day. She declares "I'll make sure he keeps his promises." The F3 encourage her to go.
At a travel agency, Tsukushi obtains a ticket to New York City. She quickly packs a bag and tells her brother to stay with their parents for a few days. Next, Tsukushi visits Amon Kunisawa at his apartment. She thanks him for covering for her and Tsukasa, and then reveals that she will be going to New York. He tells her that she is "bound to lose" to Tsukasa's mother and asks her "What are you going for?" She simply answers "Because I want to see him." Tsukushi then rushes off to the airport, where she boards a plane.
Character appearances
Notes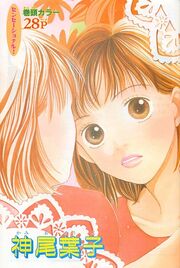 Adaptations
References
See also