Chapter 187 (第187話, Chapter 187) is the first chapter in the twenty-ninth volume of Boys Over Flowers. It was originally published on October 5, 2000 in the manga magazine, Margaret. The chapter was followed by one hundred and eighty-eighth installment of the series later that October.
Tsukasa Domyoji wants to go to New York to confront his mother, but Tsukushi Makino is apprehensive. Kaede, however, has already learned about their relationship and decides to turn off all of Tsukasa's credit cards.
Plot
Holding tickets to New York, Tsukasa Domyoji declares "I have no intention of spending the rest of my life living this secretively." Becoming nervous, Tsukushi Makino quickly tells him to "calm down" and promises to "think about it." He answers "Tomorrow then." She begins babbling about Tsukasa's mother. He eventually interrupts her, saying "I'm sick and tired of sneaking around." Tsukasa claims that he will make his mother understand. He then leaves about saying "All you have to do is believe in me."
At work, Tsukushi remains shocked by Tsukasa's declaration. Yuki Matsuoka arrives, sporting a new haircut. Wondering about the change, Tsukushi is about to ask about Sojiro Nishikado but Yuki interrupts. She tells her that she is ready for a new love and will tell her everything later. Tsukushi is amazed by Yuki. Thinking about Tsukasa, she decides that she will trust him. Meanwhile, Kaede receives a report about Tsukasa living next door to Tsukushi. She orders her employee to "Go ahead with that plan."
After work, Tsukushi meets Tsukasa for a date. She feels nervous at first, but grasps his hand as they cross the street. At a restaurant, Tsukasa comments that Tsukushi always seems to enjoy eating. She begins talking about how a table with a hot pot "is the best" and offers to make one for Tsukasa. He teases her before smiling. The waiter then presents the bill. All of Tsukasa's cards are rejected, so Tsukushi ends up paying. Outside, Tsukasa goes quiet before saying "My mother's made her move."
Character appearances
Notes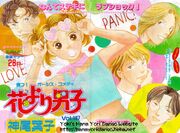 In October 2000, the chapter was first published in Margaret with a special color illustration.[2] The image was also included in volume sixteen of the complete edition of the manga.
Adaptations
References
See also