Chapter 183 (第183話, Chapter 183) of Yoko Kamio's Boys Over Flowers was first published in July 2000 in Margaret No. 15.[1] It was followed by chapter one hundred and eighty-four on July 20. The chapter was also collected into the series' twenty-eighth volume.
Tsukushi Makino offers to sleep with Tsukasa Domyoji in his apartment. Meanwhile, Yuki Matsuoka recalls Sojiro Nishikado's story about his first love. She continues her exhausting search, despite her mother's concern.
Plot
Crying, Tsukushi Makino states "This sucks! Crying over such a stupid guy," which annoys Tsukasa Domyoji. They then go inside his apartment, where he asks her if she was "lonely" without him around. Tsukushi stubbornly denies this. Tsukasa admits that he has been staying at his apartment a few hours each night, apparently worried about thieves. Tsukushi is about to leave when she becomes worried about Tsukasa being able to sleep and declares "Shall I keep you company?"
Tsukushi climbs into Tsukasa's bedding, taking him completely off guard. She then thanks him and describes how "happy" he made her that day. Tsukushi falls asleep, much to Tsukasa's annoyance. Meanwhile, Yuki Matsuoka arrives home in the early hours of the morning. Her mother demands to know where she is going every night, before showing her a list of buildings she found in her room. Yuki grabs the papers and asks her mother to be understanding as this "may be the most precious time of [her] life."
Now in her room, Yuki recalls Sojiro Nishikado telling her about how he hurt his first love. He regrets failing to meet her on the rooftop of a building at five in the morning. Yuki crosses off the name of a building before falling asleep. Around the same time, Tsukushi has woken up and apologizes to Tsukasa for falling asleep. He was unable to sleep due to her being in such close proximity. Tsukushi jokes with him about this, before inviting him to breakfast. They then join her brother next door.
Character appearances
Notes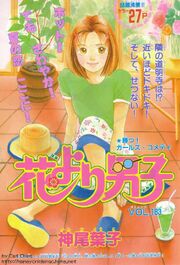 The chapter was originally released in Margaret No.15 of 2000 with a one-page color illustration of Tsukushi.[2] It was later used for the cover of volume twenty-seven of the series.
Adaptations
References
See also