Chapter 183 (第183話, Chapter 183) of Yoko Kamio's Boys Over Flowers was first published in July 2000 in Margaret No. 15.[1] It was followed by chapter one hundred and eighty-four on July 20. The chapter was also collected into the series' twenty-eighth volume.
Plot
Character appearances
Notes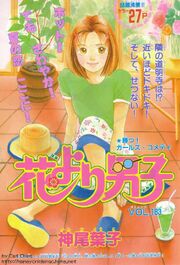 The chapter was originally released with a one-page color illustration of Tsukushi. It was also used for the cover of volume twenty-seven.
Adaptations
References
See also