Chapter 181 (第181話, Chapter 181) of Boys Over Flowers by Yoko Kamio was originally released on June 5, 2000 in Margaret No.13.[1] The chapter was followed by chapter one hundred and eighty-two of the series on June 20. It was later collected into the series' twenty-seventh volume.
Yuki Matsuoka goes on a date with Sojiro Nishikado, who takes her to a hotel afterwards. There he tells her about his first love. Tsukasa Domyoji moves next door to Tsukushi Makino and goes to a bath house with her and her brother.
Plot
Over dinner, Sojiro Nishikado and Yuki Matsuoka talk about Tsukushi Makino and Tsukasa Domyoji, leading him to comment that they are "the only thing [they] have in common." Sojiro then declares "Let's talk about us." Yuki blushes and becomes more nervous when Sojiro tells her to "loosen up." He laughs, which helps Yuki to finally relax. Sojiro then tells her that there is "another plate of dessert." Confused, Yuki lifts up the handkerchief from the plate and finds a room key. Sojiro says "I booked a room upstairs."
Tsukushi and Susumu Makino discover that Tsukasa has moved in next door. He seems unconcerned about being found out, having paid off the realtor. Susumu reminds his sister about going to the bath house. Tsukasa agrees to go with them and the three head off. Once there, Tsukushi can hear Tsukasa and Susumu talking from the women's side. She starts blushing when she hears a comment about Tsukasa's body. While walking home, Tsukushi thinks about how "easily" Tsukasa "come over to [her] world."
In the hotel room, Sojiro hugs a trembling Yuki from behind and then leans in to kiss her. He tells her "Quit forcing yourself to do this." However, Yuki wants to be with Sojiro no matter what though she continues shaking. Sojiro then wistfully states "I give up" and tells her about the girl he loved whom he hurt very badly. He feels that she will be his "only love." In Tsukasa's apartment, Tsukushi lends him an extra set of bedding before leaving. That night, she and Tsukasa lie awake on opposite sides of the wall.
Character appearances
Notes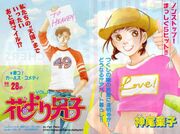 The chapter was first released in Margaret with a two-page color spread of Tsukushi and Tsukasa.[2] The illustration was later reprinted in the complete edition.
Adaptations
References
See also