Chapter 181 (第181話, Chapter 181) of Boys Over Flowers by Yoko Kamio was originally released on June 5, 2000 in Margaret No.13.[1] The chapter was followed by chapter one hundred and eighty-two of the series on June 20. It was later collected into the series' twenty-seventh volume.
Yuki Matsuoka goes on a date with Sojiro Nishikado, who takes her to a hotel afterwards. There he tells her about his first love. Tsukasa Domyoji moves next door to Tsukushi Makino and goes to a bath house with her and her brother.
Plot
Character appearances
Notes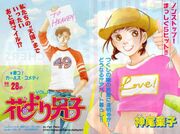 The chapter was first released in Margaret with a two-page color spread of Tsukushi and Tsukasa.[2] The illustration was later reprinted in the complete edition.
Adaptations
References
See also