"I'm having terrible thoughts. If Shizuka goes off to France, I might be able to make him mine."
The eighteenth chapter (第18話, eighteenth chapter) of Yoko Kamio's Boys Over Flowers was released in the December 1992 issue of the manga magazine, Margaret.[1] The chapter was the first included in the series' fourth volume. It was followed by chapter nineteen later that month.
Shizuka Todo's decision to give up her family name quickly becomes a huge story. Tsukushi Makino, meanwhile, worries about how Rui Hanazawa is taking her departure. However, a part of her wonders if she can win Rui for herself.
Plot
The media surrounds Shizuka Todo after she makes her bombshell announcement that she is renouncing her family name. The F4 are still in shock and Sojiro Nishikado notes "These other girls are nothing like her." Tsukushi Makino looks to Rui Hanazawa. Before she can say anything, he tells her that he is leaving and asks her to inform the others. Yuki Matsuoka and Kazuya Aoike then rush over to her, talking excitedly about Shizuka. Starting to feel unbalanced, Tsukushi goes to find a spot to sit down.
Tsukushi overhears Tsukasa's conversation with a businessman, who asks him to speak to his father. The man leaves in a huff, upset at Tsukasa's reply. Tsukasa then notices Tsukushi. She brings up the models from earlier. He adamantly declares "Do you think I'd give leeches like that the time of day?!" The conversation lulls and she apologizes for the other day. He refuses to apologize, saying "It's your fault anyway!" Dizzy, Tsukushi's head falls onto Tsukasa's chest. To his horror, she throws up on his suit.
The following morning, Tsukushi's mother wakes her up loudly. She expresses her disappointment in her being "a high school student with a hangover." Her mother then happily tells her about Tsukasa bringing her home. The night slowly comes back to Tsukushi. She picks up the newspaper, which already features a story on Shizuka. At Eitoku Academy, Shizuka is the hot topic among the students. Tsukushi goes to the emergency exit, where she finds Rui. She wonders whether "[she] might be able to make him [hers]."
Character appearances
Notes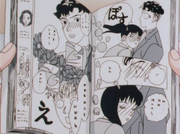 In episode five of the anime, Tsukushi is pictured reading this chapter, specifically the page where Tsukushi lays her head on Tsukasa's chest.
Adaptations
References
See also