Chapter 179 (第179話, Chapter 179) of the manga Boys Over Flowers by Yoko Kamio was published on May 5, 2000 in Margaret No.11.[1] The chapter was later included in volume twenty-seven of the series. It was followed by chapter one hundred and eighty in late May.
Yuki Matsuoka continues pursuing Sojiro Nishikado and asks him for the "full course." Meanwhile, Tsukushi Makino and her family move again. On their first night without their parents, Tsukushi and her brother are awoken by a burgler.
Plot
Yuki Matsuoka waits for Sojiro Nishikado outside his home. She apologizes for slapping him before, to which he answers with jokes. She says "You're back to your old self, already." Sojiro reveals that he never has sex with the girls at school and asks "Why do you think that is?" She correctly answers "It can be a lot of trouble if they're too close." He tells her that she is actually more trouble than those girls. Struck for a second, she then says "Can I have the full course?" and gives him her number, before running off.
At school, Rui Hanazawa meets Tsukushi at the emergency exit. He asks "What's with that face?" She reveals that her family is moving and that they spent the night packing. Their new place is too small so she and her brother Susumu will move into a separate apartment. Rui changes the subject to Tsukushi dating Tsukasa Domyoji. He confesses "I'm happy but a little sad," before describing her as "like a pet." Tsukushi smiles and says "Did you know that I 'liked you,' Rui Hanazawa?" He answers "Of course."
Walking away from Rui, Tsukushi reflects "This is the moment that love turned into friendship" and that "[her] first puppy love has ended." Later, Tsukushi talks to Tsukasa on the phone while carrying her things to her new apartment. Though she is not impressed with it, Susumu is upbeat apart living apart from their parents for the first time. Before going to bed, Tsukushi thinks of Tsukasa wondering what he is doing. She wakes in the middle of the night to a burglar creeping around the apartment.
Character appearances
Notes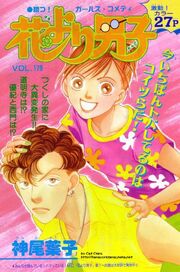 The chapter was originally published in Margaret with a one-page color image of Tsukushi and Tsukasa.[2] It was later reused for the cover of volume twenty-six.
Adaptations
References
See also