Chapter 179 (第179話, Chapter 179) of the manga Boys Over Flowers by Yoko Kamio was published on May 5, 2000 in Margaret No.11.[1] The chapter was later included in volume twenty-seven of the series. It was followed by chapter one hundred and eighty in late May.
Yuki Matsuoka continues pursuing Sojiro Nishikado and asks him for the "full course." Meanwhile, Tsukushi Makino and her family move again. On their first night without their parents, Tsukushi and her brother are awoken by a burgler.
Plot
Character appearances
Notes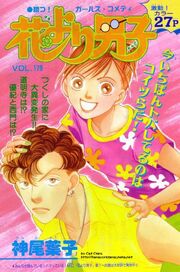 The chapter was originally published in Margaret with a one-page color image of Tsukushi and Tsukasa.[2] It was later reused for the cover of volume twenty-six.
Adaptations
References
See also