Chapter 177 (第177話, Chapter 177) of Boys Over Flowers by Yoko Kamio was released in April 2000 in Margaret No.9.[1] The chapter was included in the series' twenty-seventh volume. It was followed by chapter one hundred and seventy-eight.
Yuki Matsuoka confesses her feelings to Sojiro Nishikado. Though he rejects her harshly, she decides to keep trying. Meanwhile, Tsukasa Domyoji becomes exasperated with keeping his relationship with Tsukushi Makino a secret.
Plot
Yuki Matsuoka confesses her feelings to Sojiro Nishikado. She tells him that she is being "serious." Sojiro asks her what she wants from him and that he will date, kiss, or "take [her] to bed" but nothing more. Offended, Yuki slaps him but immediately apologizes. Sojiro, however, is not bothered. Yuki reminds him of something he said to her, which lead her to believe that he had a girl he once cared for. She questions why he "hide[s] amongst all those other girls." Now angry, Sojiro says "Don't talk like you know so much."
Tsukushi Makino approaches Yuki, apologizing for overhearing what just happened. Yuki turns around with a smile, instead of crying as Tsukushi expected. She informs her "I'm not going to give up." Tsukushi is taken aback by her persistence. Yuki asks her to just "wish [her] luck." Tsukushi says it hesitantly. She then returns to Tsukasa Domyoji, who comments that Sojiro was being "pretty sincere." He further comments that Yuki is likely to end up hurt and Tsukushi should be there "pick up the pieces."
Tsukasa asks Tsukushi "How long do we have to continue as we are?" She replies "Just a little longer." Tsukasa then tells her "I've started to feel like you're not the same girl I fell in love with." Tsukushi tells him it is not so "simple," adding "You don't understand." Tsukasa replies "You understand, but I don't?" Back inside, he informs everyone that he is leaving. Tsukushi bursts into the room, thinking "I can be like the old me when I have to." She announces that she and Tsukasa are dating. He then embraces her.
Character appearances
Notes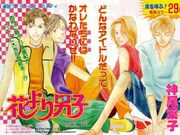 In Margaret, the chapter was originally published with a color page depicting the F4.[2] The image was also reprinted in the fifteenth volume of the complete edition.
Kamio set Cafe de Hanadan, a web spin-off of Boys Over Flowers, after this chapter when Tsukushi and Tsukasa are dating and they are not keeping it a secret from their friends.
Adaptations
References
See also