Yuki: "I want Tsukushi to find happiness. So, if Tsukushi loves Tsukasa, I want to back her up."
Sojiro: "But it might be dangerous for your family."
Yuki: "My whole family will band together and do our best. After all, that's how Tsukushi has lived up till now."
Chapter 173 (第173話, Chapter 173) of Boys Over Flowers by Yoko Kamio was published in Margaret No.5 on February 5, 2000.[1] It was preceded by chapter one hundred and seventy-two in February and followed by one hundred and seventy-four in March. The chapter was also collected into the series' twenty-sixth volume.
After being locked in together, Tsukushi Makino and Tsukasa Domyoji settle into in Akira Mimasaka's summer house. Meanwhile, Sojiro Nishikado meets with Yuki Matsuoka who voices her support for Tsukushi and Tsukasa.
Plot
Tsukasa Domyoji stops kissing Tsukushi Makino, complaining about a sore neck. They then walk back further into the summer house and find a bedroom, where Akira Mimasaka and Sojiro Nishikado have laid out bathrobes for the couple. Tsukasa startles Tsukushi, causing her to scream. He is annoyed by her reaction and tells her "You can scream all you want." Tsukasa realizes that the two of them cannot "switch gears that easily." He then says "We should just do it," which causes Tsukushi to scream again.
Meanwhile, Sojiro visits Yuki Matsuoka at her job. He brings her to a café, where he questions if Tsukushi and Tsukasa getting together will be a "problem" for her. Yuki confesses that Tsukushi has not confided in her about her feelings but she wants her to "find happiness" no matter what. Sojiro comments that she has gotten "very strong." She responds that he was the person who made her strong. He tells her to find a "great boyfriend," before leaving with his date. When he is gone, Yuki remarks that she feels like an "idiot."
Tsukushi is warming herself next to the fireplace when she recounts their trip to Canada. She stops short, so Tsukasa finishes "[I] saved your life." Tsukushi tells him "You're always annoyingly persistent in saving me," though she admits that she is "grateful." He responds "I'll save you as many times as necessary." Tsukushi blushes and makes a strange face, causing Tsukasa to laugh. She starts crying, realizing that she has not seen him smile in a long time. In New York, Kaede Domyoji receives a report.
Character appearances
Notes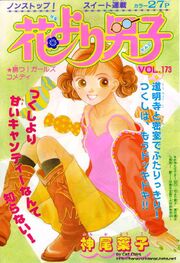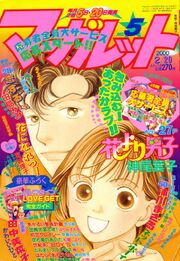 The chapter was published in the fifth issue of Margaret with a color illustration of Tsukushi.[2] The image was later used on the cover of volume twenty-five. Tsukushi and Tsukasa were also featured on the cover of the same issue of Margaret.
Tsukushi mentions being tricked by "those three" in chapter seventy-eight, but stops herself before bringing up Tsukasa saving her in the following chapter.
Two buildings shown in the New York City skyline resemble the World Trade Center.
Adaptations
References
See also