Chapter 172 (第172話, Chapter 172) is the first chapter of Boys Over Flowers to be published in 2000, specifically on January 5 in Margaret No.3-4.[1] The chapter was followed by the one hundred and seventy-third installment in February. It was later collected in volume twenty-sixth of the manga.
Tsukushi Makino meets Amon Kunisawa, who reveals they are being followed by the Domyoji Secret Police. Later, she is invited to Akira Mimasaka's house, where she finds herself locked in a room with Tsukasa Domyoji.
Plot
Tsukushi Makino meets Amon Kunisawa at a café. When she burns her finger, Amon holds her hand and brings it to his lips. She protests, but he shushes her. Amon then points out two people, whom are members of the Domyoji Secret Police. He reveals that they called them the previous night to ask when he was seeing Tsukushi next, which is the reason he asked to meet up. Tsukushi is taken aback and goes silent. Amon, noticing her mood, reminds her "You chose this path. You have no choice but to push on."
An exhausted Tsukushi is joined by Rui Hanazawa at the emergency exit. He suddenly asks "Did something happen between you and Tsukasa?" She quickly denies it. Eventually, he asks if she wants to go to Akira Mimasaka's house after school. There she meets Akira's clingy twin sisters and mother whom Tsukushi mistakes to be his older sister. Curious, she asks Sojiro Nishikado if he has siblings. He reveals that he has two brothers. She reflects "How strange. I knew nothing about these two."
Sojiro and Akira take Tsukushi to the summerhouse to show her a black rose. She steps inside and the guys lock the door. Laughing, they say "There's a black rose there, isn't there?" and assure her that they will return in the morning. Tsukushi turns around to find Tsukasa tied up. After untying him, she realizes that they are stuck together for the night. Nervous, she tells him "I'm not ready for this." First kissing her head, Tsukasa says "It's that look on your face that excites me" as he moves to her lips.
Character appearances
Notes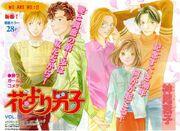 Adaptations
References
See also