"I'd have no trouble at all talking about anything else, but it's really hard to express words I've held in check for so long. But, I want to start things right from this point."
The one hundred and seventieth chapter (第170話, one hundred and seventieth chapter) of Boys Over Flowers was first published in Margaret on November 20, 1999.[1] The chapter continues the "Couple Arc," which began in the previous chapter. It was followed by chapter one hundred and seventy-one in December.
Tsukushi Makino and Tsukasa Domyoji are now reunited as a couple, but she notices a strange tension between them. On top of that, Tsukasa is unaware that she has chosen to be with him. She gathers her courage to say it to him directly.
Plot
Tsukasa Domyoji leans in to kiss Tsukushi Makino. They are interrupted by one of their stomachs growling. Tsukushi claims it came from Tsukasa's stomach, but he refuses to admit it. They then head off to go eat. Tsukushi wants ramen saying that she cannot "think of anything but ramen now." He responds "What's the inside of your head look like?" She says the same thing back, before joking "The inside of your head is full of me, maybe?" They both blush fiercely, making the atmosphere tense.
Tsukasa hardly realizes it when Tsukushi brings him to a ramen shop. After his initial shock wears off, they descend into silence again. Tsukasa walks Tsukushi to her home. He asks her if she has a passport, before stating "Let's go to New York." Tsukushi stops him from saying anything else, telling him "Don't rush me." Confused, Tsukasa asks "Why did you get off that bus and come back?" Tsukushi, too embarrassed to declare her feelings, ends up saying "I just thought I would." Tsukasa eventually walks away in irritation.
Inside, Tsukushi is greeted by her parents. She ignores them as she thinks about Tsukasa, realizing that he does not understand her intentions to be with him. The next morning, Tsukasa meets his friends whom question him about the previous night. He makes a happy, irritated, and confused facial expression in response. He then wanders off, ignoring Sojiro Nishikado and Akira Mimasaka. Tsukushi approaches and asks him to go with her to the roof. She is determined to "start things right from this point."
Character appearances
Notes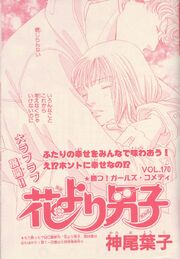 Tsukushi mentions her trip to Canada from chapter seventy-eight when Tsukasa asks if she has a passport.
When Tsukasa says New York (ニューヨーク

Nyūyōku

), Tsukushi confuses it with "to take a bath" (入浴

nyūyoku

). Her father also makes the same mistake, leading Tsukushi to say "I guess we are father and child."
Adaptations
References
See also